According to the Tantric tradition there are fourteen great nerve centers in the physical body, with seven energy centers – chakras – serving as the nexus between the body and consciousness. Each chakra is connected to a specific color:
– Muladhara (red)
– Svadhisthana (orange)
– Manipura (yellow)
– Anahata (green)
– Vishuddha (blue)
– Ajna (indigo)
– Sahaswara (violet)
ZONAL – Extending the Body and Mind, an exhibition at WantedDesign 2014, and curated by Matthew Waldman of NOOKA and Marc Thorpe of Marc Thorpe Design, showcases a selection of wearable and portable technologies inspired by the ancient vedic connection between color and body,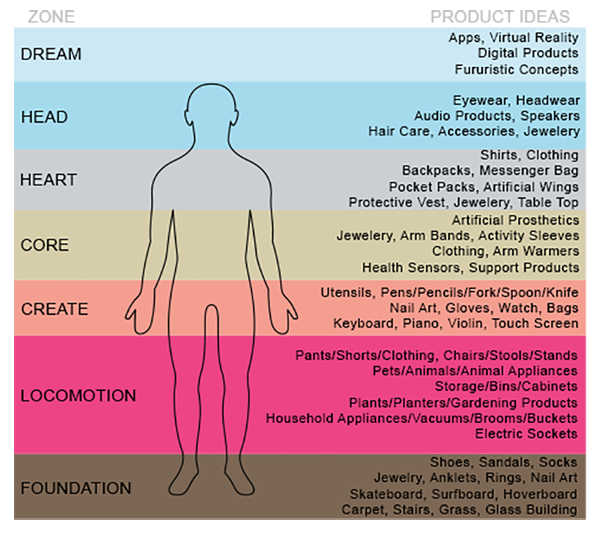 Designers from around the globe were invited to participate in the exhibition, each assigned a specific zone with correlated product categories to work within : Foundation, Locomotion, Creation, Core, Heart, Head and Dream.
Each of the seven concepts represent the designer's vision of "optimistic technofuturism" through the prism of the Tantric tradition, including footwear inspired by highrise architecture, a timepiece with a 72 year cycle, and even a "message in a bottle" communication device designed to be shot out into outer space. More details about the exhibition at Nooka and WantedDesign.