Strek Collective is a group of four Norwegian designers who will be presenting a group of products as part of 100% Norway 2012 at Tent London. The team collaborates to create simple, yet versatile, well-made designs. The collection, which includes trestles, lamps, and storage pieces, work separately just as well as they do together.
The trestles, named Wandering Lines, were designed based on their own need for tables and benches while exhibiting. Available in three sizes – for benches, tables, and clothing stands – the trestles are flat-packed and easily assemble or disassemble when needed. Perfect for a variety of uses, even in one's home.
Copper 58 is a collection of five storage pieces, all various sizes but circular in nature. The pieces can be used as a tray, bowls, vases, candle holders, you name it, all while creating reflections.
They remind me of crowns.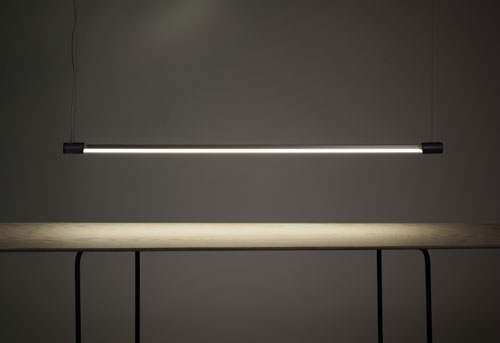 Strek Light is a pendant lamp that's scaled back to the basics, no adornment necessary. Ash cylinder caps on the end hold on to a fluorescent tube (also using LED technology) making the horizontal lamp distraction free. You can use whatever length tube you want to change the length of the light.