Do you love the idea of growing your own vegetables and herbs but are slightly intimidated by the idea? Well, I do and I am. Luckily things just got a whole lot less daunting thanks to Earth Starter and their incredibly easy method to getting your garden growing. The Nourishmat takes all the guesswork out of gardening by being an all-in-one, labeled system that you simply roll out, pop the seedballs in and get started.
See how it works:
The mat is sectioned out as to what plant goes where. The pre-cut holes are there so that you know exactly where to place the pre-planted seedballs. It even has a built-in irrigation system so you'll never overwater again!
Nourishmat comes with 19 plant varieties in the form of 82 seed balls so you'll have plenty of veggies. The easy to follow directions even come printed right on the mat so even the most garden-challeged person can get things going.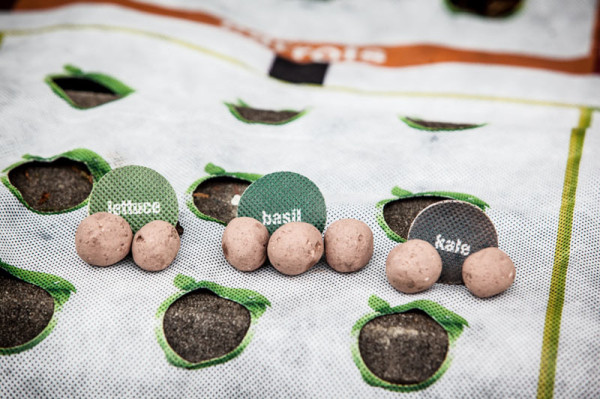 The mat is only 4′ x 6′ in size so it's perfect for people with limited space, and limited time, of course.
Is your green thumb intrigued? Jump in on the action and secure your very own on Kickstarter.
They also have a 2′ x 6′ Herbmat that has room for 8 herb varieties with 32 seedballs included.