Aspeqt desk light
Creative people need creative spaces. This is something I've explored at length in my own blog and we've started looking at here in the new Where I Work column, so it was really exciting to see so much new and innovative furniture for the working environment at the Stockholm Furniture Fair.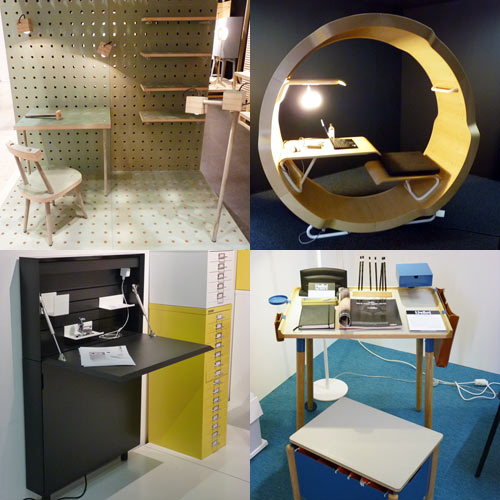 Clockwise from top left: 2880 by Anders Serrander and Hampus Rendmar; Gaia workspace by David Bruer, Vanessa Bui, Alexander Littorin, Johan Netzler and Filip Sundblad for EFG; Minimal workspace by Fredrik Paulsen and Deskstore.
First up, the most crucial part of any workspace – the desk. Both the 2880 and the Gaia workspace are modular and customizable, so that they can be tailored to the individual, or even to the type of work that individual is doing at the time. The Gaia spaces can even be attached to each other to make a group working space. The Minimal Workspace and Deskstore are designed for homeworking, and the Minimal Workspace can be moved around the home for different situations and times of day.
Storage is, of course, also a vital component to any successful working space and lockers were everywhere at the Stockholm Furniture Fair. It seems there's a real revival of that industrial look for offices. But these Eskoleia storage solutions, released in retro baby blue and pink for their 100th anniversary, particularly caught my eye.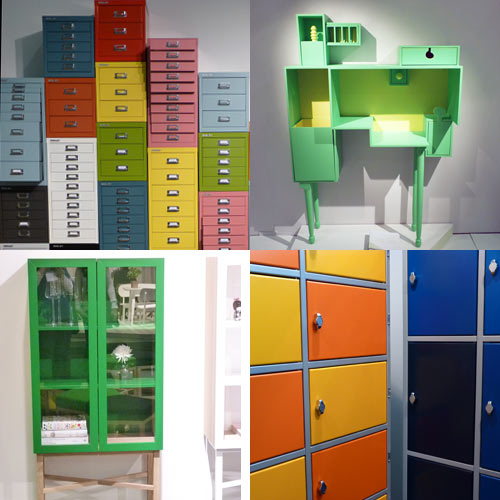 Clockwise from top left: Bisley; Storage Unit by Mathilda Bjorklund from Linkopings University; Noki Lock by Marc Michels and Made In Smaland.
More storage, this time adding a pop of color and a splash of fun to any working space; more lockers, piles of files and some quirky freestanding storage too. And talking of color, green was a big trend, with genuine efforts not just to connect the inside with the outside, but also to literally bring the outside in.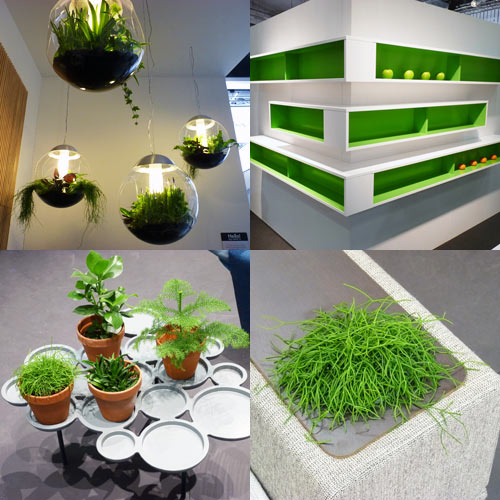 Clockwise from top left: Communication Lungs part of the Anatomy of Organisations exhibit, Piece by Edsbyn, Soundwave Geo by Ineke Hans and Layer by Laufer + Keichel.
Whether it's simply incorporating a fresh green color, or making space for plants, people are clearly cottoning onto the benefits of bringing nature closer to creative working spaces.

Clockwise from top left, Cage, Piknik, and 75-46-42 all by OFCSPS.
I loved this little range of office furniture from OFC SPS (an abbreviation for 'office surprises'). Piknik is an adapted outdoor table with wheels to allow it to be moved to where ever it's required in the office, with light and electricity built into a hatch. It encourages people to sit with different coworkers each day, making new connections. Cage is a padded transportation container with a light and laptop power, providing a quiet space for one, or when clipped together, a "micro-meeting room." 75-46-42 provides seating at different heights (75, 46 and 42cm) to suit different requirements; a stool, a work seat or a lounge bench – or it can be used as a table.
And no self-respecting creative's office space would be complete without some gorgeous stationery. Trust Marimekko and Hay to step up to the mark with this fantastic selection.
Our trip to Stockholm for the Stockholm Furniture Fair 2012 was supported in part by Airbnb.com.