It's the dead of winter for many folks and the idea of getting out of bed early in the morning to brave the cold can be daunting. Work is that necessity we all have on our daily agendas that shows up every Monday and (hopefully) ends on Friday. Oftentimes, we spend more time at the office then we do in our own homes so having a fun place to work could make those early mornings not seem so rough. Take, for instance, the Red Hat offices in Raleigh, North Carolina. Red Hat decided to take over an existing building with a recognizable identity, which needed a critical rebranding that was unique to the Red Hat company. Enter IA Interior Architects. The global firm designed an inspiring downtown headquarters that not only addressed the interior, it gave the exterior a refresh.
The lucky employees are treated to a three-floor communal space that features amenities, like dining and food service, games (pool, ping pong, and air hockey!), two fitness centers, and a 3,500 square foot outdoor terrace. The space's floor-to-ceiling glass windows keep it bright with natural light, but also give the employees views of the Raleigh skyline.
Red Hat's signature branding is seen throughout with the color palette of black, grays, and bright red, which make for an energetic environment. Employees get to eat lunch, take a break, or relax in one of the many seating areas full of modular sofas.
Panels of red glass behind this reception area greets employees coming into the common area. Behind the glass is the dining room.
One of the many meeting rooms gives nod to what Red Hat is known for, open source software.
The signature red hat!
Workplace levels are color-coded by bands of carpet to remind you which floor you're visiting.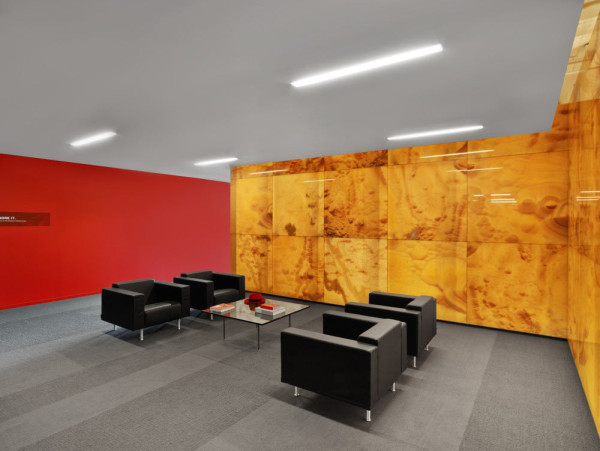 Panels of onyx were just one of the many materials that were reused from the original building.
Art on loan from local museum, CAM Raleigh, rotates in the lobby offering visitors a colorful, visual display.
Photos by Eric Laignel.

Design From Around The Web