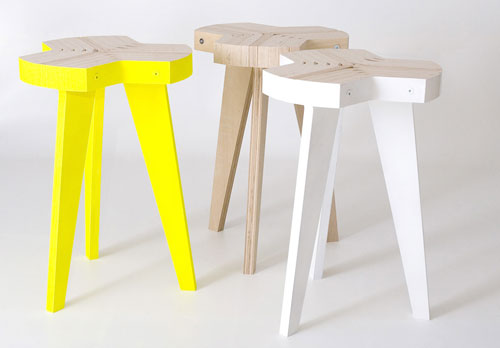 Italian designer Giorgio Biscaro will exhibit during the upcoming Milan Design Week at Salone Satellite, the showcase for young designers from all around the world.
This year, the collection counts almost twenty new products, and includes light fixtures, furniture, kitchenware and more. He's given us a sneak peek at his Offset Stool.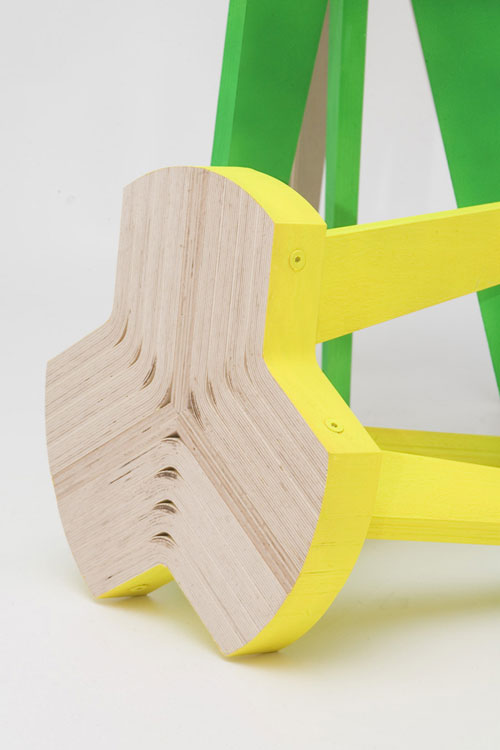 From the designer:
Offset stool is the result of a deep research into bent plywood, its possibilities in furniture, and manufacturing process optimization. Offset stool is obtained through the repetition of some plywood strips bent at the same angle, manufactured by the producer by bending a long, single sheet of plywood and then cutting it into pieces. These pieces are drilled and paired to three pantograph cut legs through three couples of little iron bars to avoid glueing and provide extra stiffness. At this stage, the stool is a compact body, but its resulting shape is still quite uneven, because all the bent stripes are the same length, and this make the seat kinda "rough". To obtain a smooth profile, the stool is milled with the help of a guide and no other processes are needed.

The trilobated shape of the seat is unusual, but it's more comfortable, regardless of people's different heights: since it mimics a bottom's print, legs can immediately reach the floor and they are not pressed to the edge of a wider seat.

This construction method allows to minimize scraps, and quickens the production, since all strips are worked at the same time. Moreover, if the plywood seat has some flaws, you can throw it away without discarding a big piece of wood. Plywood is really little expensive, and this, combined with the easiness of production method (single radius bent, waste reduction and one-gesture mill) sets price really really low. Even packaging is light and minimal, since the disassembled stool can fit into a 43x21x8cm box, providing great storage. The main body is painted but the top of the seat remains natural, to show how it's made.

Design From Around The Web