Danish engineers Bo Puggaard Hansen and Mathias Christiansen want you to stop reminiscing about yesterday's incandescent light bulbs and recognize the next generation of lighting can do everything old bulbs once did…but now only better. They've announced the Orb, a hanging pendant light designed to match your mood – or create one – with customizable settings that can adjust the small light's array of LEDs in intensity, color, and even direction.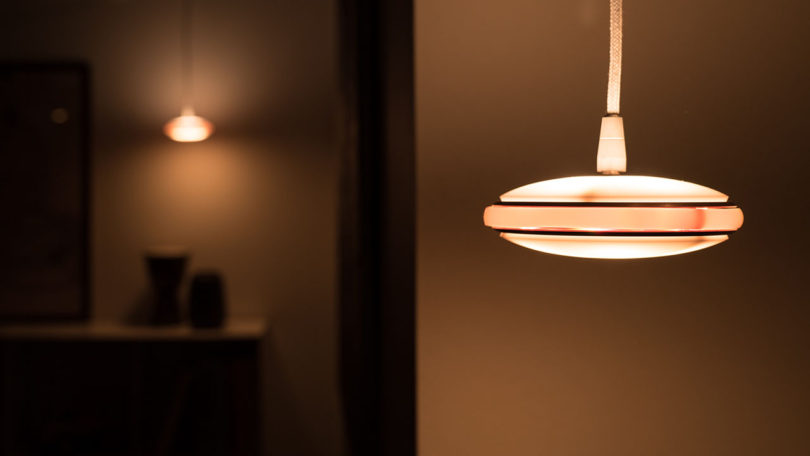 The pair founded their design startup Shade in Copenhagen, Denmark back in 2015, motivated to improve upon residential lighting as an adaptable light source that could replace multiple bulbs with a single source.
Their "one of a kind" solution, Orb, isn't a single light bulb, but a multi-directional hanging light system engineered to illuminate upward, outward, downward, or in combination. The luxe flying saucer (or flattened hamburger) design is divided into three sections: top, middle, and bottom. Each section can be illuminated independently, with an upward light casting an ambient/indirect glow, downward for direct surface lighting, and the middle band adding an atmospheric splash of color outward.
The Orb's output is controlled using a compatible SHADE app; users can also access a small selection of predefined lighting modes offering differing light intensity, direction, and light temperature: Dinner to improve the appetizing factor of food, Work to activate productivity through brighter and whiter light, and softer and yellow lighting to create the culturally cozy Danish concept of Hygge within the home.
Set in a corner or hanging over a table, the Orb accomplishes something similar to the Philips Hue LED bulbs, but with the addition of directional options to create environmental lighting zones motivated by atmosphere, mood, social engagements, and everything else beyond producing a pragmatic source of light.
The Orb can be further accessorized with a customized add-on shade. The Slaatto S1 Silhouette was created by designer Øivind Alexander Slaatto to direct and soften the effects of the Orb's lighting, and in the process create a lighting system that evokes the memory of traditional lampshaded lights rather than a piece of newfangled technology.
The Orb is still in development and is due to be ready for shipping late 2017, but Shade is on the brink of pre-sales this month with a 70% discount for the earliest of investors.