Our Favorites From NeoCon 2021
Our Favorites From NeoCon 2021
1/15 Photos
2/15 Photos
3/15 Photos
4/15 Photos
5/15 Photos
6/15 Photos
7/15 Photos
8/15 Photos
9/15 Photos
10/15 Photos
11/15 Photos
12/15 Photos
13/15 Photos
14/15 Photos
15/15 Photos
We ventured to Chicago for our first trade show trip in a few years to check out NeoCon 2021, whose slogan this year is "Design Anew". While the show was slightly quieter than previous years, there was still hustle and bustle amid the hallways, tons of business deals being discussed, and, of course, still elevator lines! Welcome back, NeoCon!
Big Talk by Adam Goodrum for Blå Station – in the Scandinavian Spaces showroon was a rainbow delight.
Division Twelve's new stacking chair, Catty, designed by EOOS was a favorite – just look at those colors!
Bottle Floor by Shaw – Each square yard contains 61 plastic bottles.
The new Emeco modular bench, table and desk series by the Bouroullec brothers.
Cute chair from Haworth with a fun drawstring detail in the back.
The Hightower showroom got an especially beautiful redesign by Casework.
Multifunctional outdoor product from Austin-based contract company Formaspace.
Sixinch had a lot of great new pieces like their Sole chair, but this leather pouf was my favorite!
Free Address 2.0 by Stylex is a one-stop solution for all environments.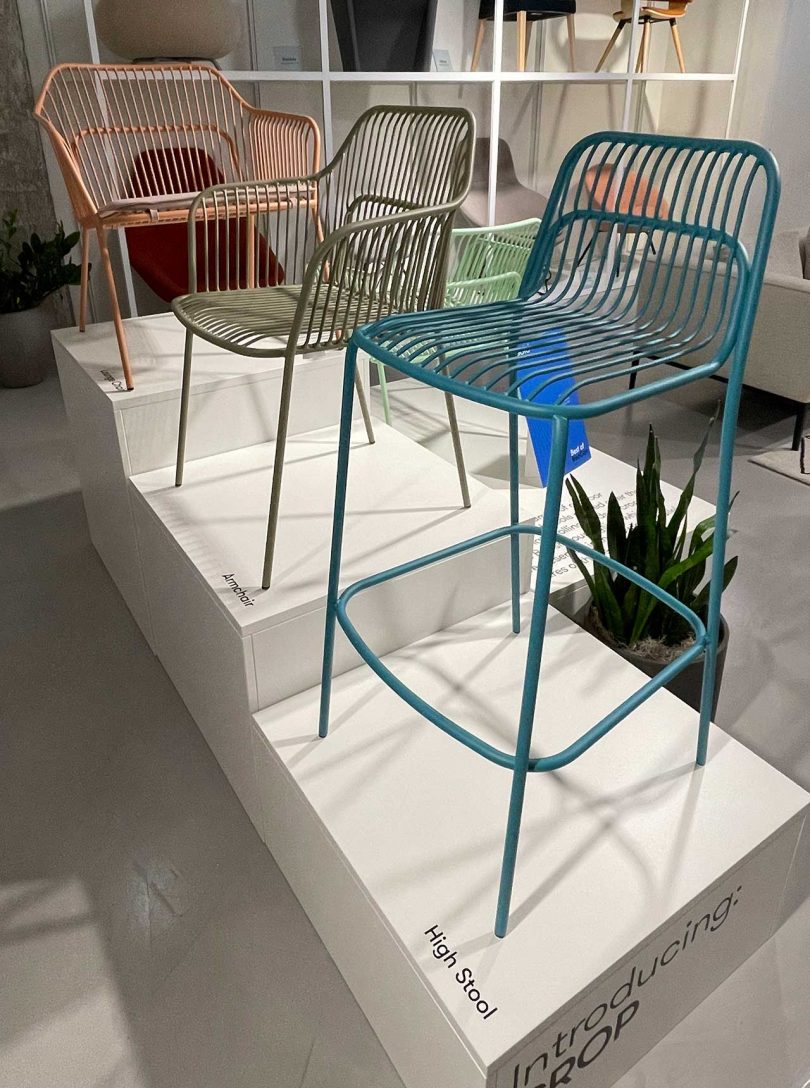 Crop is a new stool by Allermuir that also won a Best of NeoCon award.
Noé Duchaufour-Lawrance's Elio Chair and Terry Crews' Belmont Chair for Bernhardt Design
Great patterns and colors in Wolf-Gordon's new collaboration with V Starr Interiors (from Venus Williams!).
Patcraft's Deconstructed Forms collection is not only gorgeous and luxurious, but the shapes and colorways are spectacular. Plus, it coordinated so well with my shoes!
The biggest trend I spotted was a color: there was an oxblood / deep wine color everywhere! I wonder if that's going to make its way into residential? What do you think?
All in all, it was a great event – so glad to be back!