The world's largest (and coolest!) collection of shoes is housed inside the Bata Shoe Museum in Toronto. In the same vein, Out of the Box: The Rise of Sneaker Culture is the museum's latest exhibition, designed by Karim Rashid.
Check out this preview of the exhibition:
It explores the history and culture of the sneaker from the late 1800s to today through a showcase of well-designed shoes inside 32 translucent acrylic pedestals, a free-standing 40-foot long display case, and five inset wall displays with custom graphics. Not to mention, Eventscape engineered all of the acrylic, millwork, flooring, and metal elements.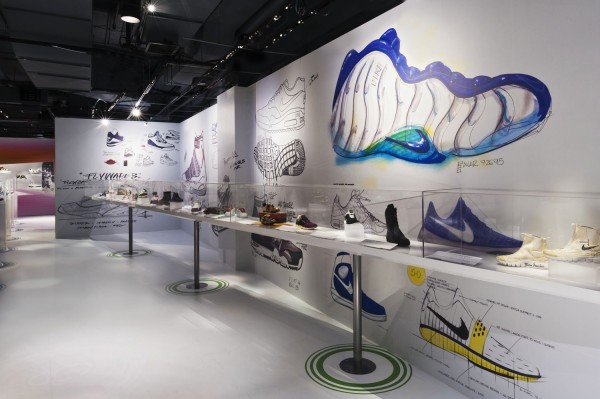 The exhibition's main section, the Innovation and Design area, highlights sneakers from four top Nike shoe designers though a special 40-foot display case. The adjacent walls feature large prints of the designers' original conceptual drawings and sketches.
The opposite facing walls are composed of fabricated millwork pieces that have integrated translucent display shelves and fiber optic lighting. These shelving systems are sealed with frameless clear acrylic panels that have a decorative print graphic.
Each pedestal on the exhibition floor has been carefully crafted from impact-resistant polyester sheets along with custom prints. These graphics create the illusion that the shoes are hovering inside the tubes.
What's the best part? The amazing kicks, of course! It'd be nice to get my hands on some of these… or just to peek at them through their worthy pedestals.
Heading out to Toronto? Out of the Box: The Rise of Sneaker Culture will be on display though April, 2014.
All images courtesy of © 2013 Bata Shoe Museum, Toronto, Canada (photos: Philip Castleton)