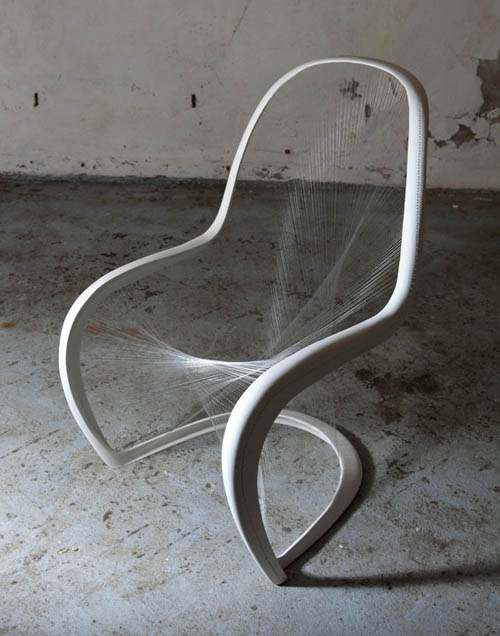 Fifty years ago, Verner Panton designed the first single mold plastic chair with a curvaceous profile called the Panton chair. Since then it has become one of the most recognizable and classic designs to date. To celebrate the 50th anniversary of the iconic design, Vitra UK held a design competition among its clients to customize a Panton chair. The only criteria was that the finished product must be movable by one man.
Judging the competition were Terence Conran, Kevin McCloud and Charles Saatchi. The 31 entrants produced unique and diverse results ranging from the understated to the dramatic, making it difficult to decide on a winner. However, ultimately the judges awarded the first place to Jump Studios, an architecture and design company based in London. Their design (above) was a cat's cradle that takes on the curvy shape of the original.
Taking second place was Ben Adams Architects, who created holes on the surface, creating a delicate, lace-like pattern.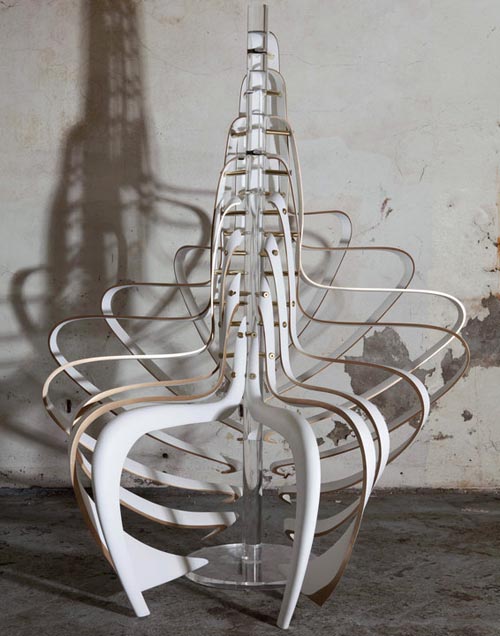 Maris Interiors LLP took third. They sliced up the Panton chair to make a sculptural structure that resembles a skeleton.
The winners were announced at an exhibition at the Saatchi Gallery on July 1, 2010 and sold in an auction in aid of Shelter.
See all 31 chairs on Vitra's Facebook page.
Photos by  Nicole Bachmann.