The following post is brought to you by Patcraft. Our partners are hand-picked by the Design Milk team because they represent the best in design.
When you enter a space—office, home, museum, school, wherever—you may not immediately take note of the flooring. But Patcraft is always thinking about it: from experimenting with oxidation of metals, exploring the juxtaposition of matte and gloss, and reinterpreting the texture and grains of wood, there's no shortage of innovation and creativity underfoot, so you might be missing something if you don't look down. They've released not one, but five new commercial flooring collections at this year's NeoCon.
We were drawn in by the unique process that they used to create their new Artefact collection, and then became enthralled with the innovation and interesting techniques the Patcraft team used in both their design and printing processes for all five collections.
It all started with a stairwell. Day in and day out, the Patcraft team walks through a door and enters a stairwell at their office, not noticing the worn, rusted patterns on the walls, until one day, somebody did notice.
Inspired by those rust patterns, the team decided to experiment with the way liquids, rust and metal interacted on fabrics. They went to salvage yards, gathered old metals and fabrics, and lined up an array of liquids including water, vinegar, coffee, and even Earl Grey tea. Over a six-week period, they played with the discarded objects on cotton, silk and wool fabrics to see what happened when oxidation met textiles.
The result is a collection of four carpet tile products: Patina, Etched, Relic and React, collectively called Artifact, but each with its own texture and hues that come from the organic, earthy and time-worn experiments that will help bring spaces closer to their environments. It just goes to show you that sometimes all you need to do is look at your surroundings and you just might see something you never noticed before…
Perhaps aesthetically our favorite collection is Woodtone (above), a design that began with inspiration from wood growth rings and grain patterns. But instead of trying to recreate those organic designs, the team decided to get artistic and hand-draw patterns that resemble natural wood features. This gives it an organic with a graphic twist that has it standing out amongst a sea of imitation wood tile.
Available in long, wide planks of 12"x48" non-vinyl resilient tile made from compressed polyester fiber, the collection come in bold, saturated colors alongside neutrals so you can mix and match, add pops of color, or create a feature area. Using a digital printing method that minimizes repetition, they were able to achieve subtle changes in tone and a more natural, organic look.
The versatile Monochrome and Surface Tone uses a mix of gloss and matte finishes paired with a multi-tonal combination of colors and sizes that can come together to define spaces or create movement through scale and subtle color and finish variations.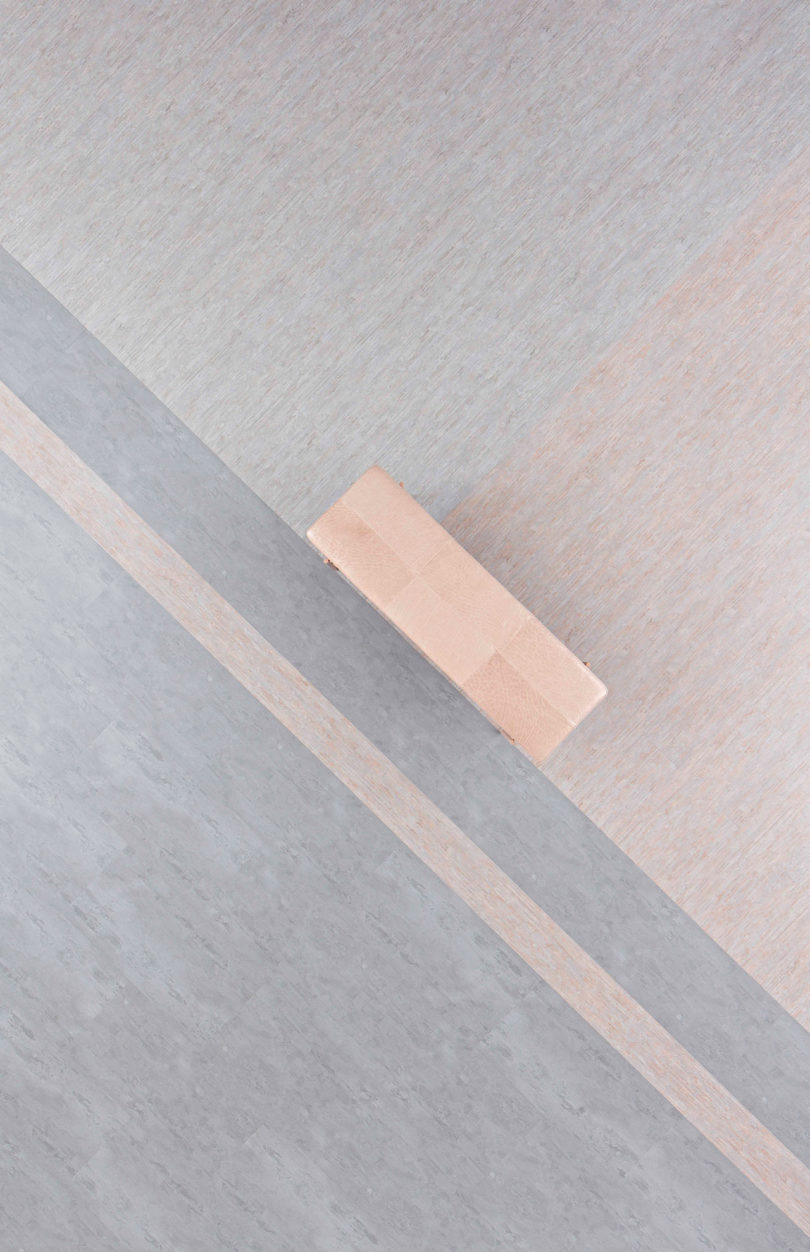 Splitwood is a new take on a wood grain tile design, using metallic inlays of bronze, silver and gold to highlight the wood's textural grooves and imperfections. It reminds me of the Japanese repair method of Kintsugi, which fills broken pottery cracks with gold-dusted lacquer, making the cracks become a beautiful, focal point rather than a blemish.
Constructed with up to 35% recycled post-consumer PET fiber, the Dichroic collection is an instagrammer's dream: sustainable, ombre, facets that shift and play with optics—basically this collection is the millennial pink of the bunch. The collection is inspired by the subtle tonal changes in felted wool, and is available in a square and facet shape, which, when mixed, creates a more dynamic space.
All of these collections are beautiful and inspiring, but they're also both durable and sustainable. We love how Patcraft's focus on "transforming performance" is not only focused on how well their flooring holds up to the challenge of everyday use, but also about how people perform better when their spaces are exciting, comfortable, and welcoming.
Feeling inspired for your next design project? Learn more about these collections and Patcraft's mission at patcraft.com.

Design From Around The Web