Patterns + Textures Play in Kirkby Design x Eley Kishimoto Edition II
Patterns + Textures Play in Kirkby Design x Eley Kishimoto Edition II
1/21 Photos
2/21 Photos
3/21 Photos
4/21 Photos
5/21 Photos
6/21 Photos
7/21 Photos
8/21 Photos
9/21 Photos
10/21 Photos
11/21 Photos
12/21 Photos
13/21 Photos
14/21 Photos
15/21 Photos
16/21 Photos
17/21 Photos
18/21 Photos
19/21 Photos
20/21 Photos
21/21 Photos
After a successful first collaboration in 2017, Kirkby Design and 'the patron saints of print', Eley Kishimoto, present Kirkby Design x Eley Kishimoto Edition II. While Kirkby has become known as an experimental textile brand with a love of extreme textures and contemporary colors, Eley Kishimoto brings a daring use of color and pattern to the project. Their latest collection of textiles and wallcoverings is vibrant and impactful, combining signature graphic patterns with innovative textures that feel both cozy and on trend.
"We're excited to continue our journey with Kirkby Design, shaping the world of interiors together. I believe that with the integrity and quality of our relationship, we can continue with our collective vision to make the interior world a prettier, more comfortable space," said Mark Eley of Eley Kishimoto.
Included in Kirkby Design x Eley Kishimoto Edition II is Flash, an Eley Kishimoto signature design that's elevated through wool bouclé and handwoven raffia. Jagged Roses features highly stylized roses and thorny geometric shapes with a unique contrast of scale and texture. Cotton velvet is woven on a traditional loom, while the wallcovering is digitally printed on handwoven raffia. Taking inspiration from the honeycomb, Home Centre is a playful pattern that uses cut and uncut velvet with a satin sheen. Its wallcovering counterpart uses metallic ink printed onto natural wood pulp. Basic geometric shapes create the effect of paper airplanes in Origami Rockets. The textile features a 3D look thanks to textured cut and uncut velvet, while the wallcovering is made by traditional machine and wood pulp paper. Quilted Mirage is pixelated and enlarged, allowing the pattern to be revealed only from a distance. It's enriched by wool bouclé. Textured and plain, Solid is a handwoven, natural raffia wallcovering with subtle texture that complements other patterns. Graphic Fairytale beings together three patterns – Origami Rockets, Jagged Roses, and Flash – to create a pattern with everything. Fun and playful, it's woven on a traditional loom for a tapestry-like quality.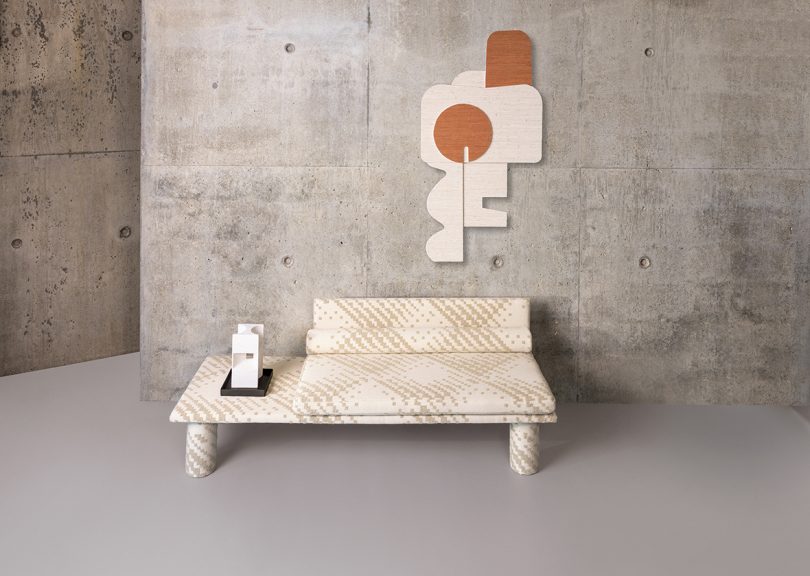 To learn more about Kirkby Design x Eley Kishimoto Edition II, visit kirkbydesign.com.