Located on the top of Mt. Carmel with panoramic views of Haifa Bay and the northern coast of Israel, the Haifa Penthouse received a major renovation, which included structural engineering to move the central staircase. Designed by Levin-Packer Architecture, the main goal was to make sure the apartment's design focused on the views with unobstructed access.
The two-story penthouse keeps the private areas on the top floor with the public living spaces on the lower level.
The complete the interior, they used a combination of iconic pieces of furniture, lighting, and other elements from designers like Hans Wegner, Charles & Ray Eames, Louis Poulsen, and Gino Sarfatti.
The subtle palette of light grey and white, joined with intentional pops of color and black, creates a cohesive living area that's now completely open to make the most of the views.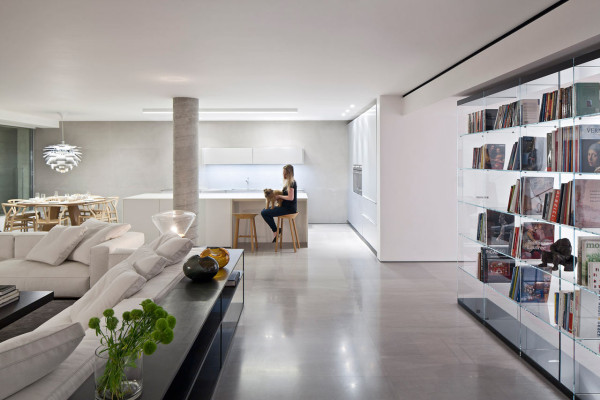 The polished floors bounce light around the space making it feel even more open. The simple kitchen is decked out in all white letting it blend into the main living area.
A glass bookcase subtly separates the living room with the home's study area. That way, whomever is at the desk can still peep the views.
Vertical wooden panels of varying widths separate the staircase while allowing light to pass through. It also adds an architectural detail to the living room.
Photos by Amit Geron.