Evernote looked to Bay Area product designer Eric Pfeiffer to design a line of desktop accessories that showed some mid-century modern love. Pfeiffer's signature style, which has been inspired by the legacy of Charles and Ray Eames and their plywood transformations, is now translated to a much smaller scale. The resulting Pfeiffer Collection shows the result of a collaboration between the designer and Evernote who worked closely together for a few ambitious months to make it happen.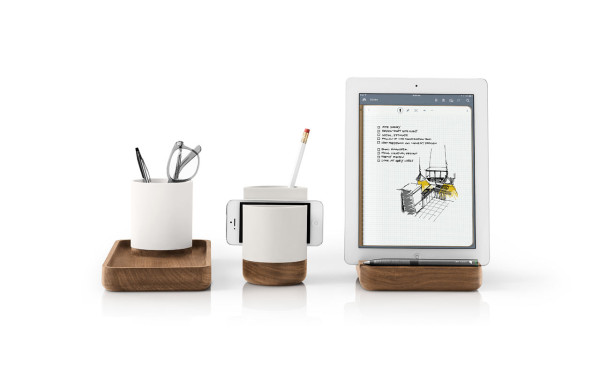 The collection is designed to not only hold your everyday office items, like pens and stuff, it holds your phone and tablet too. The pieces are made from soft touch plastic with either solid walnut wood or brightly colored bases (Evernote Green, Tangerine, or Powder Blue).
The Woodbase Collection includes a slotted cup, a catch-all tray, and a tablet dish, while the Brightbase Collection includes a slotted cup and stacking cups.