The Philips LivingColors LED Lamp is a small floor lamp with four LEDs that cast light onto any wall or room creating instant mood, ambiance and color. It comes with a remote that controls the color and saturation giving you 16 million different choices of color. The retail price is about $199, and Philips sent me one to test and review.
First of all, the design of the piece is very nice. The use of a clear globe makes the design fitting with some of the most recent trend of exposed bulbs. I also like how it resembles a speaker. It fits nicely on the floor in any little nook you might have. Although, it seems to rest a little less happily on plush carpeting than on a flat surface.
The remote is great. It's easy to use and pretty intuitive. You can change the color from just plain old light to any color you wish. The remote actually has a spectrum pictured on it so you can select the color that is right for you. You can adjust the brightness as well as the saturation. It was really fun seeing how many colors I could make. Let's just say it was a lot.
The cool factor on this lamp is super high like a 10. It's great if you host lots of parties, or are one of those people who just loves to set the mood each night with light. What it's not great for is reading or if you're looking to light up a whole room. The lamp isn't strong enough to light a large space. And be sure not to look directly at the LED bulbs, like I did, or you will see spots for a while!
Overall, the Philips LivingColors LED Lamp is a nice addition to the Philips lighting family. Although it is suited for a specific type of customer, this lamp takes mood lighting to a whole new level.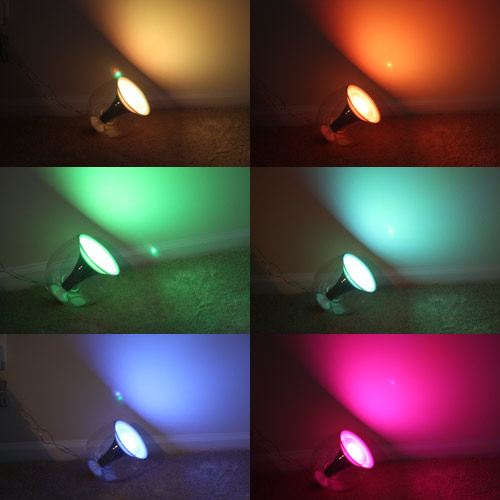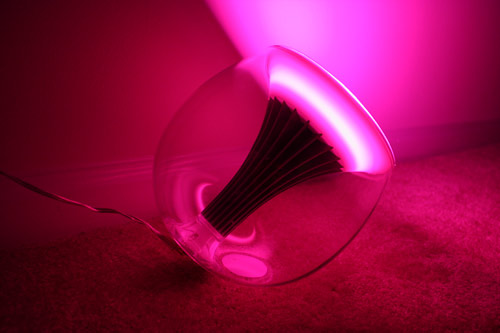 And, now for a fun giveaway! I am going to give this lamp away to one lucky Design Milk reader.
Rules: To enter, comment on this post and tell us two things: 1) your favorite color and 2) how long you've been reading Design Milk. One entry per person. Contest runs from April 22, 2010 through April 29, 2010. We will choose a winner at random.
Sorry, this giveaway has expired.
Congratulations to commenter #605, Raj!