The Planalto House, located in São Paulo, Brazil, is 600 square meters (approx. 6500 square feet) of magnificent Brazilian contemporary architecture designed by Flavio Castro. Situated on an 800-square-meter lot, the house is made up of two perpendicular structures with a large space left over for outdoor recreation.
The upper, solid looking floor rests above the smaller, more open ground floor. The ground floor houses the public areas, while the upper floor contains the private family spaces.
The outdoor space is completely private from the neighborhood letting the family of four enjoy the space without prying eyes.
Skylights bring sunlight to the outdoor kitchen pavilion below.
The previously mentioned outdoor kitchen lets the family have outdoor meals all year long no matter the weather.
The social areas have no separation between indoors and outdoors thanks to the sliding glass doors that disappear and open the space up.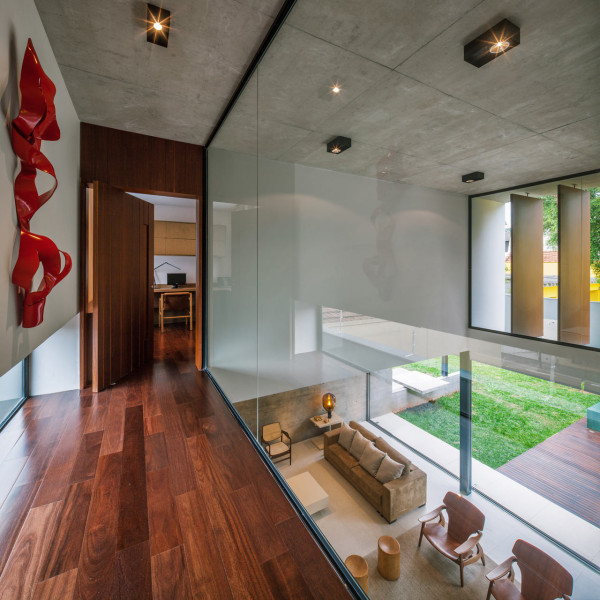 The kitchen stays bright with the help of a long narrow backsplash made of windows.
A massive pivoting door invites visitors to the home.
Floating stairs lead to the rooftop deck.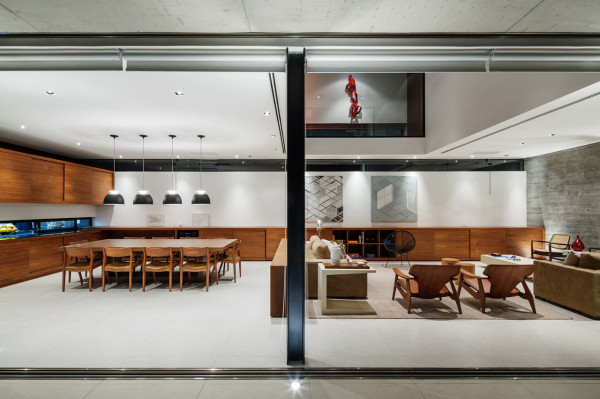 Photos by Nelson Kon.