Spanning four floors, House Patrocinio is located in Lisbon, Portugal and it's a house like no other, with its lush vertical garden exterior and its rooftop lap pool. Underneath all of the green is a rectangular tower of a building but the facade, and the approximately 4,500 plants that cover it, make it a standout.
Designed by Rebelo de Andrade, the plant-covered exterior contains about 25 different Iberian and Mediterranean varieties of plants, giving it loads of textures and aromas.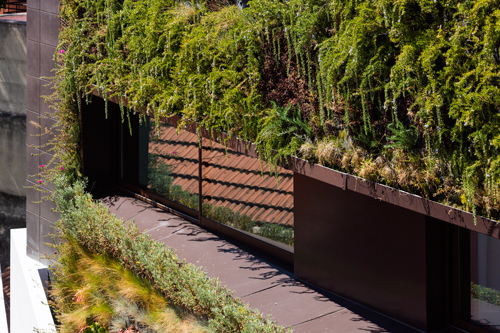 The street level floor houses the garage and the mechanics of the home, while the first floor is the family's private level. The third floor has the social spaces, which is appropriate since the open top floor is the deck with a truly awesome lap pool.
I have one question though – how in the world do they water and weed the walls?
Oh hey, rooftop deck and your mirrored cube. It gives you great views of the city from every angle!
I'm not sure if he's floating or swimming…
Notice the circles on the bottom of the pool?
Here's the other side. You can spy on people in the room below or catch a glimpse of whomever is swimming laps up above.
Creeper…
The narrow structure's four levels are connected by a really long staircase.
The glass panels on the ceiling and the front of the house make the staircase so light-filled and airy. It also helps flood the house with natural light.
Photos by FG+SG.