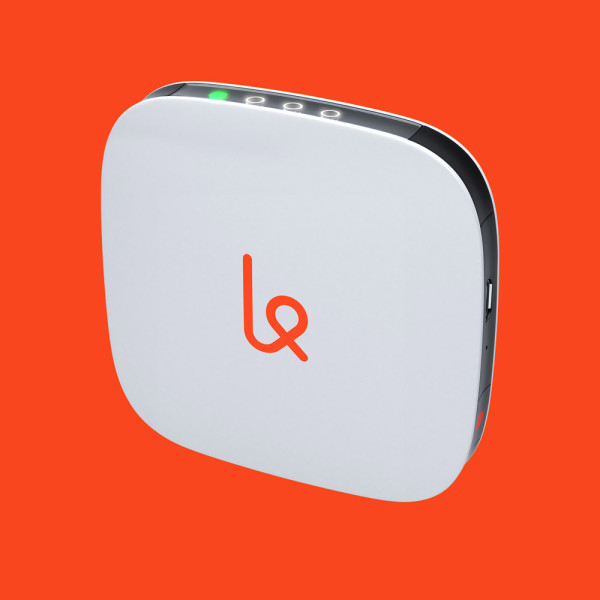 I was a fan of the original Karma, a pocket-sized WiFi device offering a 4G network that took a novel route of incentivizing WiFi sharing, designed around the axiom of "sharing is caring". For every person who connected to my Karma Classic, I earned 100MB of free data. Since I was someone who only needed WiFi while traveling for work (only a few years ago airports were still stingy with free WiFi access), my contract-free, pay-as-you-go, give-and-you-shall-receive Karma worked well for my needs. I racked up free data in airport terminals, where strangers desperate for a connection would sign on. In addition to receiving free data for helping others get online, I also made the occasional new friend.
The Karma Classic became standard in my travel pack for a year until I haphazardly shared the device a little too willingly, and lost it somewhere between Los Angeles and New York.
Fast forward to now, and I've got the new Karma Go in my hands. Their latest iteration has been updated with a streamlined sign-up process, new packaging, and most importantly, 4G LTE network coverage and speeds (as well as fallback to 3G!).
The newly updated Karma Go looks welcomingly familiar and still feels as agreeable in hand as the first. Sheathed in smooth white matte plastic sandwiching a black plastic middle where indicators, connections, and a power button reside, the Karma's eliminative design philosophy is communicated as much by touch as by sight.
A slight convex curvature extends inward and upward from the edges to the device's center. At first, this curvature gracing the upper and lower casing feels subtle, but in everyday use its inclusion makes picking up the device off of flat surfaces easier than if the device was designed completely flat. Just enough leverage is created when it's pressed at the back of the device with fingers outstretched, rocking upward for the thumb to slide underneath to pick up. It's a minor but useful detail matched by the mild indentation following the whole middle border, a tactile cue that in practice allows users the ability to switch the device on or off without ever pulling it out from the pocket.
Karma Go's USB charging cable is matte and rubberized (I liken it to a perfectly formed al dente piece of squid ink fettuccine pasta) and offers yet another ingenious detail: each end of the cable is magnetized to keep the ends together when not in use. Additionally, a small orange plastic tab keeps the cable neatly looped, a visual echo of the Karma loop logo itself.
If all these details seem unusually thoughtful for what is often considered a utilitarian accessory, it should come as no surprise that every detail of Karma Go from the packaging to the device itself was the brainchild of VP of Product, Sjoerd Smit, and Director of Brand Experience, Peter Sunna. Karma seems committed to integrating a sensory loop throughout every aspect of the customer experience.
And that experience is a very tactile one. Right from the moment the user unpacks their device from a crackly rip-top sleeve package (designed to be easily slid through a mail slot for delivery), both sound and touch play a part. A soft felt sleeve stores and protects Karma Go within, doubling up as both a carrying case and a soft landing coaster to place the device upon, protecting the Karma Go from any scratches or from sliding off of smooth surfaces. The details add up to a device that is well planned, aiming to be more than just a WiFi hotspot.
The new Karma Go is extremely simple to use. Press the power button and an array of LEDs illuminate back and forth until settling into a mode indicating the connectivity strength. Press again and the Karma Go enters sleep mode, communicated by a visual approximation of a slow heartbeat. The subtle inclusion of visual feedback between user and device communicates the state of the device without complicating the interface with the clutter of screens or messaging.
Karma Go rides on the Sprint network with average download speeds of 6-8Mbps and peaks up to 25Mbps (uploads of 2-3Mbps). WiFi can be shared simultaneously with up to 8 devices using 802.11b/g/n 2.4Ghz wireless networking, with a battery that lasts for 9 days (sleep-mode) and 6-8 hours (in use). Karma customers have the option to either purchase Karma Go outright or sign up as a guest through someone else's connection and purchase data as needed. In either case, customers aren't tied to contracts, plans, or monthly fees. This is a godsend for occasional users like myself who also appreciate true rollover data that never expires with the freedom to connect anywhere 4G LTE or 3G is available.
A Karma Go owner could accrue an unlimited amount of data without actually purchasing any by inviting others to use their WiFi connection. It's commendable to have a service that taps into the best of our intentions, and rewards us for it.