Hear that? That's the echoes of the collective inhale of surprise heard at the Frankfurt Auto Show this past week after Porsche unveiled what some are calling the most serious challenge to Tesla yet. The 600 horsepower Porsche Mission E concept car seems to be designed with an "everything you can do I can do it better" mentality with the much praised Tesla P90D Model S in its targets.
Built around an entirely new drive system engineered around two permanent magnet synchronous motors, the system allows for racing car acceleration with recover braking energy efficiency.
Driving purist will be pleased to note the technology does not come at the sacrifice of performance: 100 km/h in less than 3.5 seconds and to 200 km/h in under twelve seconds. More pragmatic Porsche fans will will appreciate the vehicle offers four-seats with a 310-mile (500km) range; the Mission E's batteries can be recharged to 80 percent in a coffee break 15 minutes.
The Mission E's sculpted low-slung body is undeniably Porsche, its midsection slightly pinched with shark-like air inlets and outlets strategically placed along its front, sides giving the car an elongated profile – hinting at the excess of speed the electric car is capable of producing at a foot press – while also directing airflow to its carbon-fiber wheels, engine, and to produce enough downward force to keep lift at bay.
As engaging as the exterior advertises, there's much to take in within the four doors of Mission E as impressive. Being an electric concept, Porsche was able to start with a blank slate, jettisoning common interior features to opens up the entire interior into a spacious cabin. A strong T-shape extends from the dash outward to the instrument panel continuing along driver and passenger side; the instrument panel itself is uncluttered, with Porsche forgoing their traditional control instrumentation for multifunction touch displays.
The displays themselves are three-dimensionally structured, with separate holographic layers providing occupants apps stacked and arranged by priority. Control functions such as media, navigation, climate control, contacts and vehicle are accessible via touch control, but also can be accessed using gestures detectable by interior sensors: a grasping gesture us used to select, while a pulling motion means control. It's all very Minority Report and emphasizes Porsche's attempt to make the vehicle a futuristic, yet tangible, departure from their current stable of vehicle.s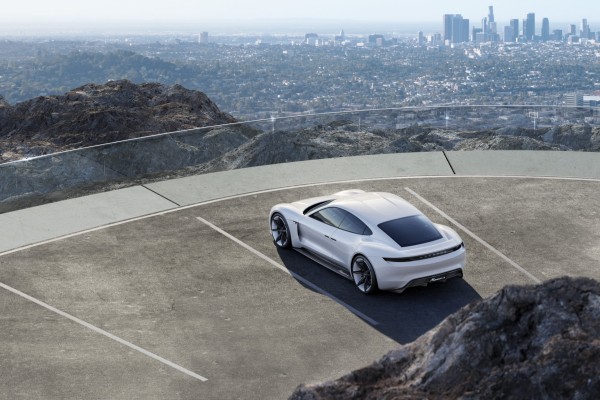 The Porsche Mission E has no official release date yet, but considering the public's response to this concept, we fully expect some version of this concept car will land on show floors in the next few years. For now, enjoy this video hinting of what's to come:

Design From Around The Web