Portuguese architects Pedro Varela and Renata Pinho renovated this apartment in Portugal, using playful yellow carpentry as the basis of the design. The cheerful unit, which takes the place of mundane walls, offers a number of different solutions, including  storage (shelving, closets, and drawers) seating, and partitions.
We're guessing that middle section is for a large television.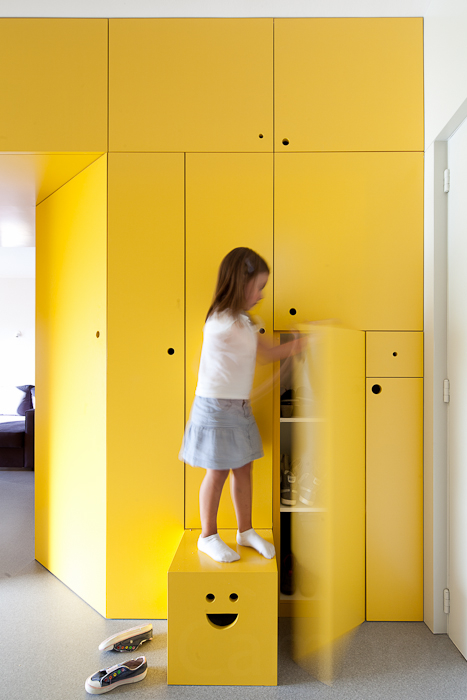 Just stick your fingers into the smiley face to pull out the stool!
And just push it back in when you're done.
Unified flooring throughout lends the feeling of a bigger, more open space.
Frosted glass separates the kitchen, providing a visual separation, but still allowing light to filter through.
The kitchen is multifunctional. There's a replaceable counter, convertible laundry room and hidden storage all in a clean layout.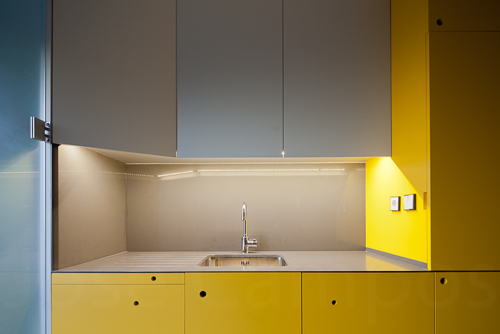 Different size round holes instead of knobs keeps the surfaces flat and extra clean.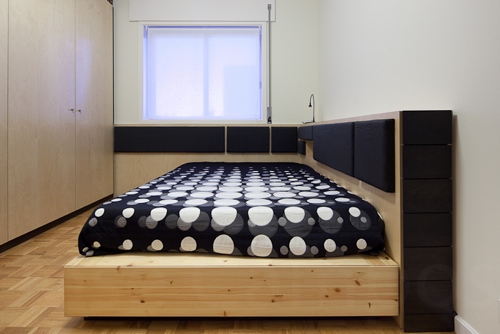 In the master bedroom, wood complements IKEA furniture.
Love how the drawers pull out from the side of the headboard so not an inch of storage space goes to waste.
This bathroom has a triangular geometric theme.
This one has a round geometric pattern.
The circular mirror and cabinet door cutouts echo the wall pattern design.
Photos by José Campos.