When I moved in, my bathroom was outfitted with basic builder grade components that never really went together and to top it all off, they never really worked properly. I just made do with what I had, but over time, I knew I'd have to renovate this space and make it my own. To make the bathroom magic happen, we've partnered with TOTO, the Japanese manufacturer behind those infamous toilets that do everything for you, and to help bring it all together we've brought in online interior design platform, Decorilla, specifically, designer Joyce Elizabeth Tranchida.
It's embarrassing to show these but here's what I've been living with… (sad, I know):
My basic, boring bathroom needed some modernization, and a brand-new cohesive look as it's the only bathroom in my home. If you've ever looked around at finished bathrooms, you know just how much goes into them and it's completely overwhelming! I didn't have any idea where to start—Did I want a one-piece toilet or a two-piece toilet, a WASHLET or no WASHLET, a handheld shower head or a rain shower head, polished chrome or brushed nickel, subway tile or penny tile, the list goes on and on! I was overwhelmed and didn't know where to start, but luckily Joyce Elizabeth was there to help.
We visited TOTO's NYC showroom to get a better idea of what the brand had to offer and to help us select which products to use. If you've never perused their site, you should because they've got everything—not just high-tech toilets!
Working with Joyce Elizabeth from Decorilla has been great and I'm not sure I could have pulled it off without her guiding me through (I could not). Besides helping me select which fixtures to choose, she pointed things out that I hadn't even thought of and offered suggestions from a designer's perspective. I can be all over the place with what I like, but luckily Joyce Elizabeth stepped in, like helping me select which toilet model would be best for my space and the benefits of having a one-piece vs. two pieces (easier to clean and more sleek).
If you're planning to renovate your bathroom or if you're installing new fixtures, here are 5 tips from Joyce Elizabeth to help you with your selections:
1. Toilet – Choose your throne wisely
Designers and architects think immediately of TOTO when they think of toilets, with good reason. We obviously care about the look, but we do want to specify toilets that will last, are low maintenance for our clients and save water. The reason we keep going back to TOTO is that it provides all of these elements. By using its Tornado Flush, TOTO's 1G toilets are able to use 35% less water than a standard 1.6 gallons per flush model. Their CeFiONtect ultra smooth glaze ensures that nothing sticks to porous ceramic bowl, meaning less maintenance.
For my bathroom, we chose the Carlyle II Connect+ S350e One-Piece Toilet – 1.0 GPF. We knew we wanted to select a toilet that worked with a Connect+™ WASHLET® and after learning the benefits of one-piece toilets, we zeroed in on the Carlyle II model. It has a simple profile, and most importantly, it works with the Connect+™ WASHLET® S350e – the holy grail of WASHLETS (see below)! I loved that it looks fairly seamless with the toilet itself and doesn't look super bulky, like you've added a special toilet seat – these are designed to go together.
2. Bidet Seat – The fixture you didn't know you needed, but can't live without
Live in luxury with the hottest trend in bathroom fixtures: the bidet or better yet, the WASHLET. TOTO created the WASHLET to provide us all the benefits of the bidet, without taking up valuable real estate in our bathrooms or forcing us to move seats to cleanse. They did so by creating an add-on toilet seat which they call a WASHLET. This seat does everything you could ever imagine you'd want from a toilet seat: it opens on its own through movement sensors and closes after you are finished, the seat is heated, and you can adjust the temperature, speed and rhythm of the water coming from the bidet. Sounds like overkill now, but once you start using the settings, you'll be glad you have all those options! Most bathrooms are not set up to accommodate another fixture anyway, so WASHLET is sometimes the only choice for those who want all the benefits in one.
Real talk, how has America gone so long without picking up this trend? Bidets are fairly common throughout Europe, Asia and Latin America and are widely thought of to be the only way to stay hygienic. For a country obsessed with showering and hygiene, how did we let this trend slip by?
I've wanted a TOTO WASHLET since the first time I went to Japan and I think it's because of all the electronic features. Now because of the WASHLET, I've got them! Check it out – we might be here awhile because it has more features than any appliance I own. First, it pre-mists the bowl before each use to help keep the bowl clean and upon hearing that I couldn't stop singing "Hallelujah" like Bruno Mars in 'Uptown Funk'. Then, the lid automatically opens and closes, which I fully believe could save marriages. If that isn't enough, it has front and rear warm water washing, a heated seat, warm air dryer, automatic air deodorizer, and a night light, all controlled by the user.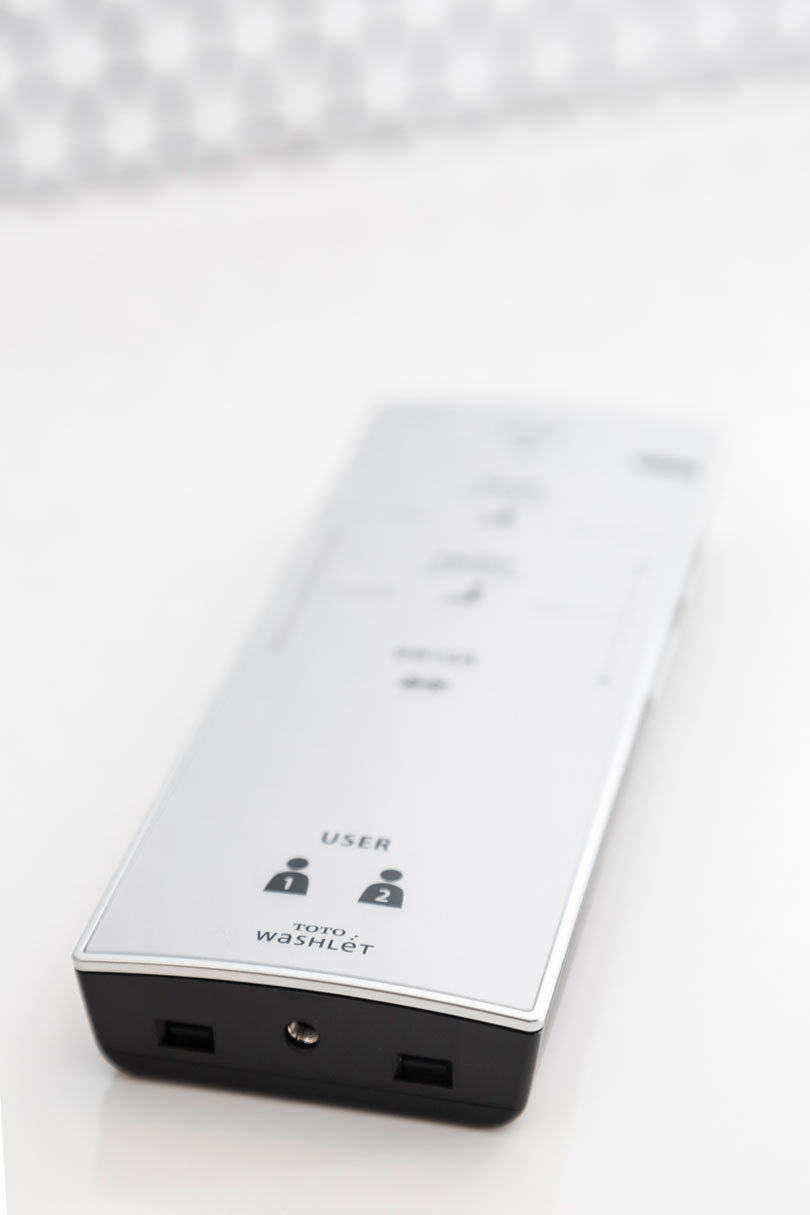 3. Bathtub/Shower – Tub/shower considerations
 Size
While many big city dwellers are opting to go for showers only in their master baths, the love of tubs is still alive. Tubs can be great for children or for your leisurely bath time. For either function, you'll want to look for a tub that's over 24" deep to help with comfort and to easily contain the water when bathing children.
Material
When considering which material to use for your bathtub, be wary of fiberglass or porcelain on steel which are not very durable. Acrylic is usually a better option, though there are various qualities of acrylic available and some may discolor or scratch. The Japanese bathroom fixtures company TOTO uses a higher quality acrylic, for instance, that has reduced these issues to a minimum. Cast iron and solid surface materials are built to last, though they are heavy. For cast iron especially, be prepared for extra labor costs for install and make sure your floor is reinforced enough to handle the weight.
Function
If therapeutic baths with jets are your thing, the newest upgrade is air jets. Instead of traditional jets which can collect mold if not cleaned frequently, the air jets are completely self-cleaning. All of TOTO's Air Baths, for example, are self-drying which makes them self-cleaning. This is a huge one-up to the traditional jets.
If you prefer a shower… Quickly becoming a staple in my bathroom designs has been the hand shower. Everyone is swooning over rainfall showerheads but what they may not think about is the water pressure they'll be missing. You can always put in jets to make up for the missed pressure, but they don't really get you clean, but act as more of a massage. Hand showers really do it all, from the massage capabilities of body jets to providing the water pressure and flexibility you need to make sure you're spotless. It's just a bit more self operational so you can decide exactly where you need the massage most. I always place jets by literally measuring my client to make sure the jets hit in all the pressure points, so if you're not the same height or have the same proportions as the loved ones you share your shower with, I always recommend a hand shower with adjustable settings instead of, or better yet, alongside body jets.
Even if you're on a tight budget, use the hand shower as your showerhead, adjustable to be high enough and centered to function well as a showerhead. One of my pet peeves, being 6′ tall, is showerheads installed too low. There are few things worse than hopping in the shower after a long day and realizing you have to do squats just to get your hair wet. Adjustable hand held showerheads work perfectly to combat this issue. Especially if the shower is shared by many of various ages and sizes.
Now, my bathroom is a little small to have a bathtub, or at least a bathtub I'd really want, so we decided to keep it a shower and selected the Modern Series Aero Rain Shower 8″ – 2.0 GPM. I've had the handheld type for several years and thought I'd try the rain type since people seem to love them. The Modern Aero line was so minimal and clean that it was the perfect choice. This fixture has Aero-Jet™ technology that adds air to each drop of water it puts out while not using so much water – meaning, it will save water while still getting my shampoo and conditioner out of my hair quickly.
4. Finishes – Go with the trend or stay classic?
There are many details to consider when selecting finishes:
Timelessness
Do you want to create a bathroom which fits the trends and can easily be updated later or a classic look that will fit the style at any point in time? Some of the fixtures may need replacing after only 10 years. Therefore, I recommend going with the finish you love for the smaller fixtures such as the faucet and shower head, even if it does happen to be a passing trend. You can always replace them in a decade to refresh the look!
Maintenance
Some finishes are higher maintenance than others. Chrome looks much better than brushed stainless steel on fixtures, but it shows water marks easily so you will need to clean more often. Copper is a popular finish right now because it looks amazing, but it's not a good look when your faucet starts turning green. The upkeep on refinishing copper may not be worth the look.
For you or your guests?
For powder rooms or guest bathrooms, I always recommend to be a little more carefree here. You personally don't have to look at the bathroom every day, so you can worry less if it's a finish that you may quickly grow tired of seeing.
Want a quick, easy answer?
For tubs, toilets and lavatories, absolutely go with pure white and steer clear of cream finishes which may have a yellow tint. Yellowed hues look like they've aged over time and quickly look outdated. For faucets and shower heads, stick with chrome for now. Yes, I've mentioned it does show watermarks, but it's worth it! Brushed fixtures look very bland and basic. Unfortunately, brass and black are not as timeless, though we're all obsessing over both and if wanting something a little more bold, I encourage you to take the risk!
All of the TOTO fixtures we went with a polished chrome finish. As Joyce Elizabeth said above, it just looks really good! It's a classic finish that will never look outdated and it always looks so fresh and new (when you keep it clean!). To add a bit of mixed metal trendiness to the space, we're going to incorporate some copper accessories to mix it up. Those will be easy to change later on if I get tired of that look, while keeping the classic polished chrome fixtures as my base.
5. Faucet – Know your lavatory first
When choosing a faucet, you must know what type of sink or vanity you'll use. If you're using a vessel sink, which is above-counter, you'll need a faucet which is high enough to accommodate the sink. If your vanity countertop is pre-drilled, you'll need to match your faucet to the holes. They will most commonly be one of these three options: widespread, center set, or single-hole. In most cases, it's relatively easy to drill additional holes, so most new vanities come with a single-hole in the countertop. If you're replacing an existing faucet, you'll have to stick to what is there, or perhaps drill new holes, but plugging the old holes is not an option.
I tend to prefer wall-mount faucets for a clutter-free look that works with any vanity or sink that is not pre-drilled, but you'll want to speak to your plumber or contractor first to make sure it's worth the additional costs to reroute the plumbing to higher in the wall.
The sink I had purchased came pre-drilled with a single hole, which helps narrow down the selection a bit. I wanted something fairly minimal and the Soirée Single Handle Lavatory Faucet, 1.5 GPM fit the bill. Despite its simplicity, it's also bold and looks slightly aerodynamic.
Now that the TOTO fixtures are installed, I can't wait to put the finishing touches on my bathroom. Joyce Elizabeth helped me choose some additional TOTO products, the Nexus® Pressure Balance Valve Trim without Diverter, Neorest® Bath Towel Holder, Neorest® Hand Towel Holder, Legato® Robe Hook, and the Legato® Paper Holder, plus some edgy accents to bring the space together. Stay tuned for the final reveal coming soon!
"After" photography by Raymond Goodman.