In a world where 2-day shipping and free returns reign supreme, you can hardly ever find me in the mall battling the weekend crowds. Every so often, though, I crave the analog experience of walking into a boutique to see, smell, and touch actual unique products in hand. That's why I love the concept behind Calliope because it's more than just a store. Tucked away in New York's West Village, Calliope is a shoppable living room filled with vintage and contemporary design carefully curated by owners/husband-wife duo Caroline and Michael Ventura (and proper guidance from Darryl, the couple's Wirehaired Pointing Griffon). Visitors can browse through a collection of objects from rugs and ceramics to art and furniture with the comfort and ease of exploring a friend's home, especially if that friend happens to globe trot around the world picking up the coolest collectibles.
Caroline and Michael also eat/sleep/live/work in the rest of the building when they're not at Calliope. Read on to find out the cons of this work-life structure (spoiler alert: there are none!) and what the couple's learnings are from working together.
Why did you pick this neighborhood?
We knew we wanted a space that could work as both our home and provide a storefront, and we knew we wanted to be downtown. The West Village is a great fit for us because it really is just that- a little village in the middle of NYC. Our store is owned and run by us, and we wanted to be in a neighborhood that supports small businesses and really feels like a community. Our neighbors are some of our greatest customers because we can create a deeper relationship with them by being a small brick and mortar. We don't offer e-commerce, and yes that may alienate people from purchasing something from us, but it has allowed us to really get to know the people who visit the store.
Where did you get the name for the store?
The name Calliope is two-fold. In Greek mythology, she was the muse for a lot of the arts-based gods. She was also supposedly Homer's muse for the Iliad. It's also a weird musical steam organ on wheels that powered a lot of the circus trains and carousels in the mid-late 1800s. We like both definitions and are happy we never felt like we had to choose between the two.
Has it changed much since it opened? How?
We buy small batches of the inventory we carry, so once something is gone it most likely won't be back for a while. We carry quite a bit of vintage items as well, so those are all one of a kind. We want to store to feel fresh every time you walk in. Chances are, you'll always find something you didn't see the last time you were in, even if that last time was just the week prior. The aesthetic of the store hasn't changed much since opening, but we like to move products around the store often to keep it feeling new.
What's your favorite item in the store right now?
We love the wooden Line Lights from Fort Makers. They're such a simple design, but create a wonderfully warm feeling in whatever room they're in. When we opened the shop we didn't personally know the team behind the brand, but by having their products in the shop, we've been able to create a great friendship with them, and that makes having their work in the store all that more special.
What is this season's theme/inspiration/story?
With fall and colder weather approaching, we're bringing in things that are cozy and comforting. Wool blankets, vintage rugs from Morocco, ceramic mugs for warm drinks.
What's been a consistent best seller?
The vintage items we carry are always something people gravitate toward. We love hunting for weird stuff, and whenever someone buys an antique it's always fun knowing whose home it's going to live in. Right now, our vintage rugs are something people are gravitating toward to make their home a little more home-y for the winter.
Does the store have its own line?
We don't have our own products currently, but we do a lot of custom furniture. We designed the bookcase specifically for the space and offer custom shelving units. The long table against the wall is also something we designed and built ourselves, and offer that piece in custom sizes and different wood options.
Any special events/exhibits/pop ups/collaborations coming up?
Our gallery space And&And lives next to Calliope. We often use that space for various events – speaker series', meditations, art shows, etc. It's available to rent as well and we've done everything from live music shows to seated dinners. Next month in Calliope we'll be hosting artist Daniela Jacobs, whose line Arc Objects is carried at Calliope.
Do you have anything from the store in your own home?
We took a trip to Morocco four years ago and bought pieces for ourselves, as well as the store. We carry some Moroccan bags that are made with vintage rugs, and also some Moroccan pillows – those were the first items we ever bought for the store, but we also kept a few for ourselves as well. Generally, we treat our home separately from the store. It would be so easy to just tack on an additional one of this or that, but we've been conscious to not do that and as a result, the things we have in our home feel special because they're ours. We share the same feeling and aesthetic as Calliope, but rarely do we buy things for ourselves when placing an order for the store.
What's next for you and your store?
We'd love to eventually have our own Calliope branded products, but we're still figuring out what those might be.
What's one lesson you've learned since opening your store?
Separate your work life and your home life. You'll enjoy both more when you dedicate specific time to each and not let them overlap constantly.
What's the difference between your partnership as husband and wife and your partnership as owners of Calliope?
Our relationship has actually been able to grow deeper as a result of working together. We have learned how to communicate with empathy, to share responsibility, and to give each other enough autonomy to do what each of us does well. All in all, it's been a really great experience to run a business together.
What are the pros and cons to living and working in the same space?
The commute is definitely a pro. It's nice to have so much more time to ourselves in the morning and evening now that neither of us have a commute to grapple with.
As for cons, it might sound crazy to say this, but we don't really have any. We feel truly fortunate to be spending our days doing what we love with each other and it would be shitty of us to complain about it. We're good.
Finally, what is Darryl's official role at Calliope?
Jr. associate sales trainee (commission only).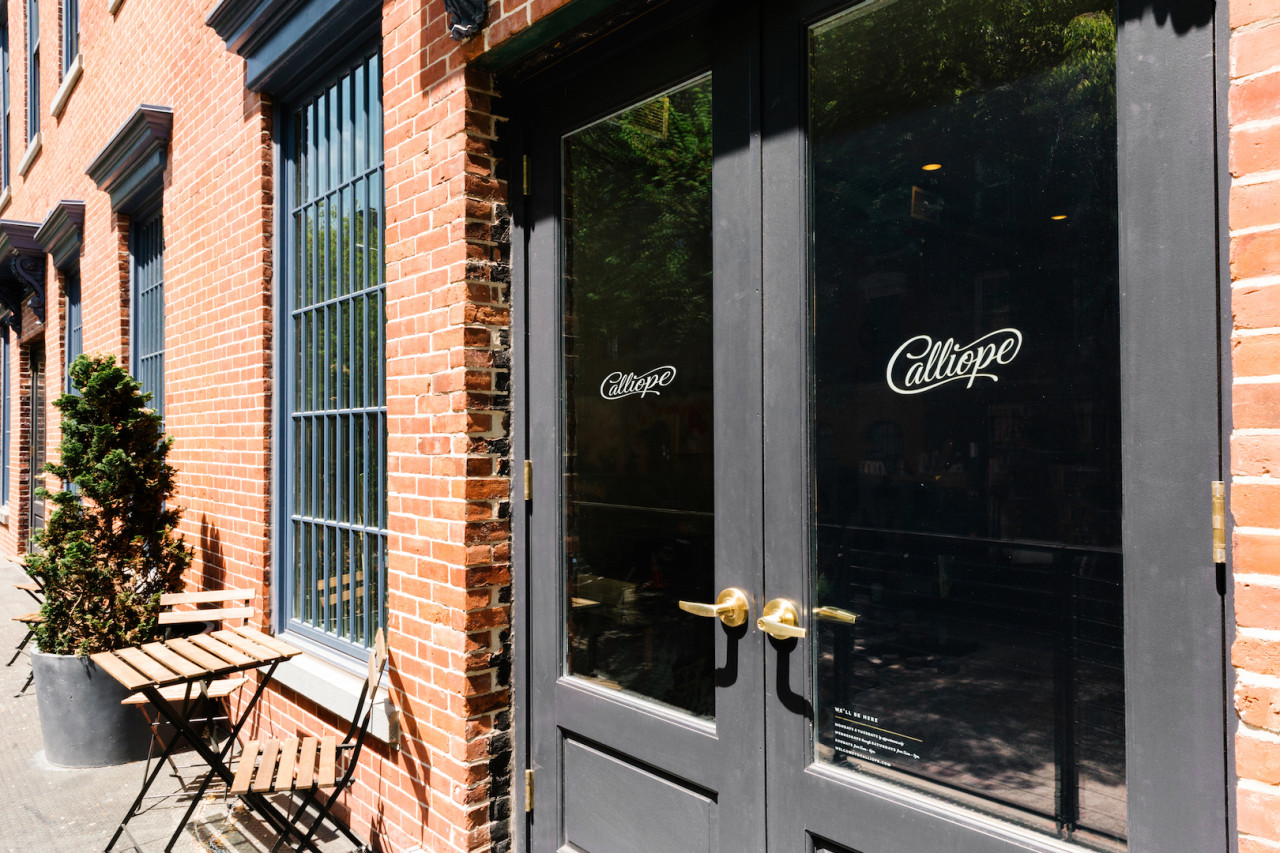 To visit Calliope, stop by 349 West 12th Street, New York, NY 10014.