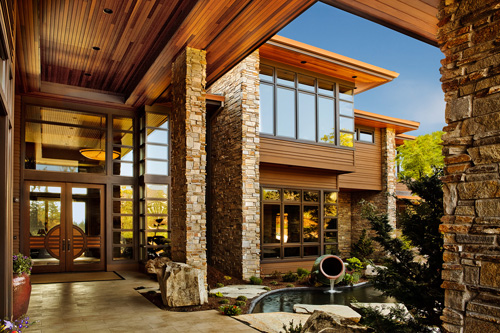 The following post was sponsored by Marvin Windows and Doors. Our sponsors are hand-picked by the Design Milk team because they represent the best in design.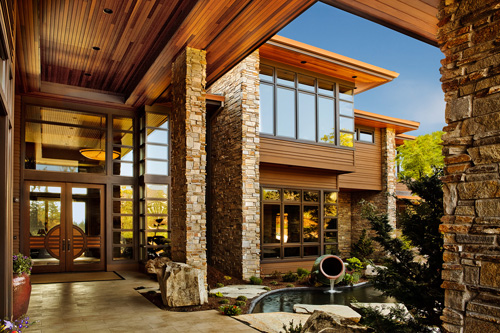 Michael Barclay of Barclay Home Design in Clackamas, Ore., talks about the design inspiration for this 13,000-square-foot, $5 million, Frank Lloyd Wright-inspired "glass house" in the mountains outside Portland. Barclay's design was selected as a winner in the 2011 myMarvin Architect's Challenge.
You've been designing homes for more than 30 years. Is this one that you'll remember more than most?
This will definitely be one of the homes I look back on. It was fun, and it was my comfort zone in terms of style. You don't get too many like this.
Tell us about the overall theme of the house.
The large great room is the center focus of the home. Then there is a raise to the kitchen. There were a fair amount of graceful level changes on the main floor. We've got a lot of soffiting in the house. The soffits provide a couple of aesthetic pluses: it gave us the ability to do a lot of lighting up and down. And it allows us to visually break up some of the tall walls.
You also used a lot of natural stone, inside and out.
Yes, there are a lot of inside-outside influences. We brought some boulders to the inside of the home in the stair areas and the wine room. The fireplace right at the entry has boulders featured as part of the stonework.
How can you use so much glass and still maintain energy efficiency?
It's not an issue any more. A number of years ago, we were constrained in the percentage of glass to wall. Since then, the manufacturers have ratcheted up their thermal performances to where, if it were possible, we could make the house 100 percent glass.
And when we're using high-quality windows, like the Marvin windows in this house, I tend to be even more generous in the amount of glazing I use.
We know that clients can be difficult. This client, you've told us, was a designer's dream.
The owners did not bridle me with constraints, yet they were direct and clear on the things they did want. So it was one of those projects that was just a delight. The owners had a few things they wanted, yet they were open to my particular likes.

Design From Around The Web