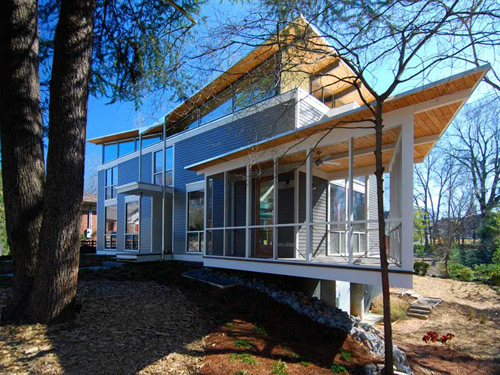 The RainShine House in Decatur, Georgia was created by architect Robert M. Cain. It is a two-story, 2,800-square-foot home that features three bedrooms, three and a half baths and some impressive sustainable building materials and methods. Its name comes from the awesome design of its butterfly roof, which is designed to capture rainfall for a rain harvest system located in its basement (Rain) and oriented to maximize southern exposure for a roof mounted photovoltaic system (Shine). Beyond the fantastic eco features, the interior is very well-designed — I especially love the use of color in the custom cabinetry.
More from the architect:
The living room, dining, kitchen and guest bedrooms are sheltered by a unique butterfly roof structured with steel beams spanned by exposed 1- 1/2" tongue-and-groove wood decking. The roof floats above continuous clerestories allowing light to flood into the interior. Light shelves around the clerestory sills bounce and diffuse natural light throughout the interior.

The butterfly [roof] design, with it's inverted gable, simplifies rainwater collection, eliminates extensive gutter and downspout systems and the associated maintenance headaches common in conventional gabled or hip roofed homes. The home features large expanses of thermally broken glazing with solar shades and operable windows. Spaces are defined by "thick walls" containing storage, book shelves, niches, pass-throughs, closets, audio visual equipment, systems, etc. Except at certain utility areas, interior walls stop short of the ceilings and are topped by glazing, thus enhancing the floating roof effect.

RainShine was constructed under the LEED for Homes Program Pilot Rating System. Upon completion it was awarded the highest possible rating—Platinum—having exceeded the requirements by a significant 11 points. The home is also certified by the Energy Star and EarthCraft home programs. For More information on the sustainable aspects of Rainshine visit the blog.
Photography by Paul Hultberg Photography.
[via Chictip]