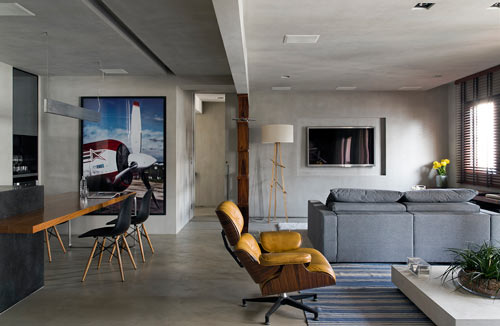 Brazilian architect and designer Diego Revollo recently completed the Real Parque Loft in a residential neighborhood of São Paulo, Brazil. The space was reconfigured from its original, broken up floor plan to an open, loft-like space. They chose a burned cement coating for the floors, walls, and ceilings to give it an overall uniform look, which lends itself to the modern aesthetic the owner was looking for.
With most of the surfaces being a gray tone, they made sure not to let it be too cold with the finished color. Warm reddish-toned woods and pops of color were brought in to bring a more natural balance to the space.
The wall shelving unit visually ties into the open shelf by the front door.
Love the way the wooden table cuts right through the countertop.
The tube exhaust vent above the stove works so much better in this small space than a bulky traditional unit would.
This shelf creates an entryway and separates the entrance from the living room, while still remaining open.
I love how the bathtub is open to the bedroom making the space appear larger. Plus, it just looks cool.
An Oasis Blue limestone was used throughout the bathroom because the color is similar to the interior surfaces of the loft.