Located on Plaça Sagrada Família in one of Barcelona's Eixample buildings, the SF18 Apartment got a total renovation by FFWD Arquitectes that preserved the charm of the historic building while modernizing it. They managed to bridge the gap between the original details of the space while changing the configuration to bring more light into every room.
The new configuration opens up the series of dark rooms to create an open plan living room, dining room, library, and a kitchen that's visually connected through windows.
Despite its narrow footprint, the main living space feels large and light-filled. They even managed to include a piano and a sectional sofa.
An oak floor was installed with a chevron pattern where the original floors couldn't be preserved. Original moldings were kept intact adding charm to the space.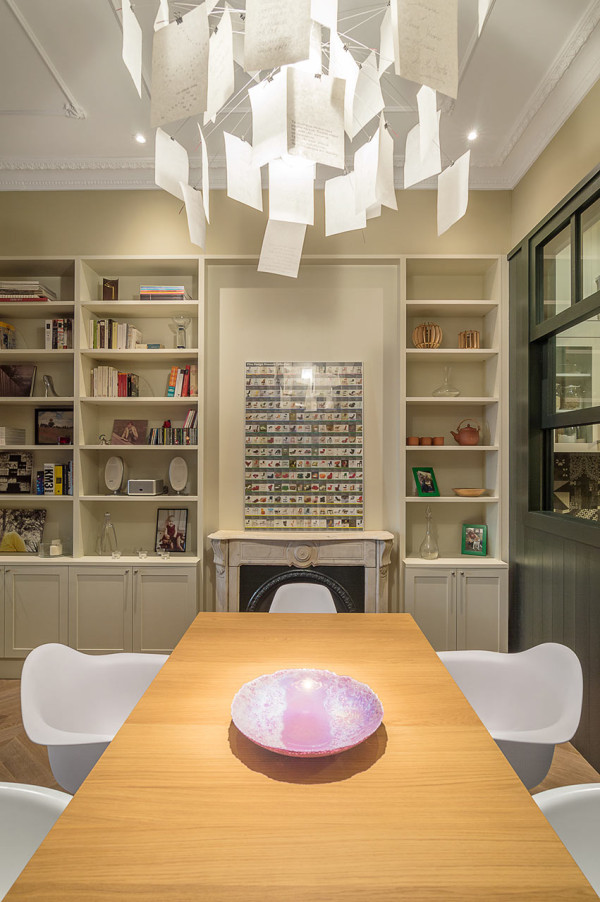 The living room flows right into the dining room which features an original fireplace and Eames chairs.
Behind the doors and windows is the kitchen.
In the kitchen and the main bathroom, they used Patricia Urquiola Azulej tiles from Mutina on the floors and backsplash.
The bathroom's color palette is neutral but with the patterned tiles, it doesn't feel boring at all.
The flat comes with a 30 square meter terrace that they covered with Alicante pine wood blinds that help filter the light and give the outdoor space privacy.
Photos by FFWD (David Benito).

Design From Around The Web