REI recently created a magical outdoor garden installation in the heart of Washington DC, by taking over a vacant lot and turning it into an urban oasis called the evrgrn Loft 2.0. The intimate space brought community leaders, media, influencers, and outdoor lovers together for a chance to check out the brand new evrgrn collection (see below), which will make you want to plan that next camping trip pronto.
A two-day event was planned with the help of local chefs, mixologists, artists, and musicians to help cover all the guest's senses. The space's design centered around sustainability and design resulting in a cozy atmosphere at REI's Community Space at the Wunder Garten.
Throughout the space, the new REI products finished off the look, which included a hammock forest, a vintage-style bar, camp settings including a campfire ring and corners with tents, and more.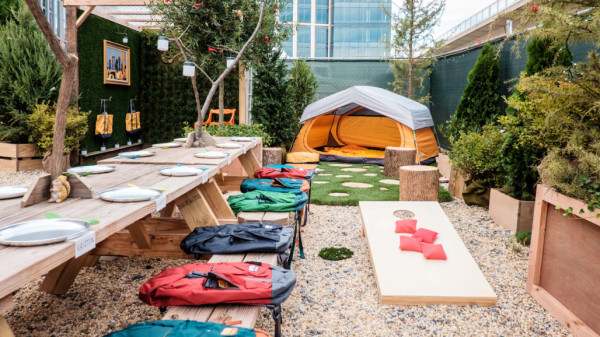 A structure was made from salvaged windows that were sourced from Forklift ReUse and old chairs were painted to offer extra seating. A grass wall gives it a lush look.
The trees and greenery were sourced locally from Manorview Nursery in Maryland.
Since the space has been cleared out, some items will remain, like the greenery and lighting, so that the space can continue to be used for various events and presentations.
Now, take a look at the new evrgrn collection that you saw spread throughout the event space:
REI's new, stylish evrgrn collection is full of fun and easy to use gear designed to make your next outdoor event that much better.
Photos courtesy of REI.

Design From Around The Web