DuffyLondon has some new versions of their original Shadow Chair (above) that are pretty fun.
Original Walnut Shadow chair
The original and classic Walnut shadow chair, made from powder coated mild steel, and solid walnut, other finishes are available.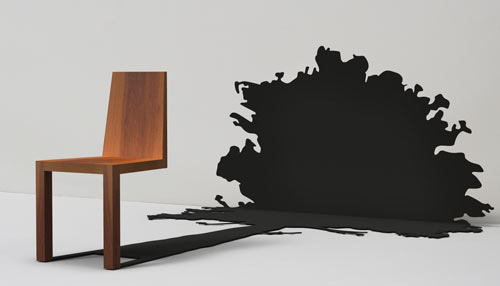 Walnut Tree Shadow chair
In this design, the shadow continues stretching out far past the back of the chair and grows into a tree. The tree is made from 100% wool felt and doubles as a soft warm rug. The chair is available in solid walnut and Oak, steel or other finishes.
Super Light Shadow chair
This super light shadow chair version is made from composite materials and aluminium, it weighs in at only 6 kilos (about 13 pounds).
Shadow Chair with Shadow Rug
This version has a felt hall runner attached. Maybe convenient for hallways or foyers?
WOLF WITHIN Shadow chair
This statement piece appears to have the shadow of a howling wolf, made from faux fur. Winners of the Peta Levi Memorial Bursary 2010, Duffy London debuted the WOLF WITHIN chair at 100% Design. The theme for this exhibition was "Little Red Cap" an early version of "Little Red Riding Hood" by the brothers Grimm.