I've never met an office or workspace I couldn't whip into shape, be it at home or in the corporate world. When Design Milk invited me to be a guest writer, I couldn't think of a better project to talk about than the desk of a friend and fellow entrepreneur. One look at where she was working every day and it was clear that there needed to be an intervention. The challenge? To create a balanced, workable work space that was easy on the eye, but also highly functional. I jumped right to the task.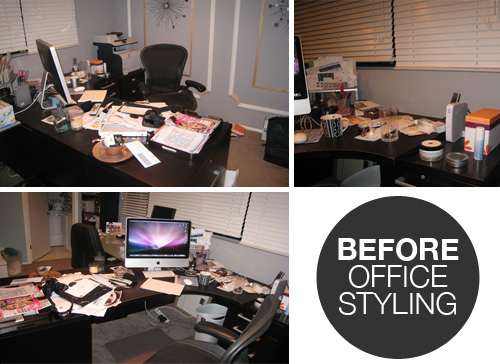 When it comes to office style, there are several factors that come into play:
Who are you?
What are you doing for a living?
And most of all, what type of workspace do you need to do your job?
My first step upon tackling her office started at the basics (and yours should too!) — clean, organize and plan taking in all of the elements above. A publicist in the fashion and beauty space, her world was hectic to say the least. She needed an environment where she could quickly shove client paperwork into files, store important documents, and of course, to be able to find a pen when she's on a call and needs to write. I mentally mapped out a plan and we got started.
Step two was to purge what she didn't need and roughly organize what she did into a variety of piles. Have you ever seen a chic apartment or home that was an entire mess? Of course not. I refer to this as "Divide and Release," and it can actually be quite energizing to do in your work environment. Toss those old receipts you've already filed to your accountant, stow those contracts you've had piling for months. My rule of thumb is if you don't use it every day, it shouldn't be on your desk.
Next, I tapped her own inner interests and creativity: what's your favorite color? What type of design and style do you like? I always refer to this as "Color and Conquer." Injecting a few favorite hues can make all the difference. Imagine walking into a place that looks and feels 100% you down to your pens and pencils. You'll never want to leave work!
The end result was a new-found working world — and an unexpected burst of creativity and productivity after with her clients. Check out the before and after photos (plus the great modern products I added!).
—
The Office Stylist is the weblog of Sortingwithstyle.com founder and office stylist Sayeh Pezeshki, who has turned her love for chic desktop accessories to a multimedia empire. She is based in Los Angeles.
—
Are you an interior designer with a space makeover or some design goodies to share? Email us at info [at] design-milk.com.

Design From Around The Web