Design firm AGi architects took on the office renovation and brand renewal of Prointel, which is the first independent TV production company founded in 1970 in Spain by Chicho Ibáñez Serrador. Located amongst residential buildings and small businesses, the Madrid-based office was updated for modern times while honoring the founder's spirit.
The office is built around an interior courtyard, which was key to bringing in natural light to each of the paces.
The employees use the outdoor space daily, so to create continuity, they brought the outdoor tiling into the interior. They also replaced solid walls with floor-to-ceiling windows and sliding glass doors.
The main workspace is open plan letting the various divisions work together collaboratively. The lighting and heating/air conditioning systems have been programmed to save energy based on the various scenarios going on in the workspaces.
Pops of bright color dot the design in furnishings and accessories throughout.
The geometric grey and white floor tiles are paired with traditional wood flooring to mix up the look.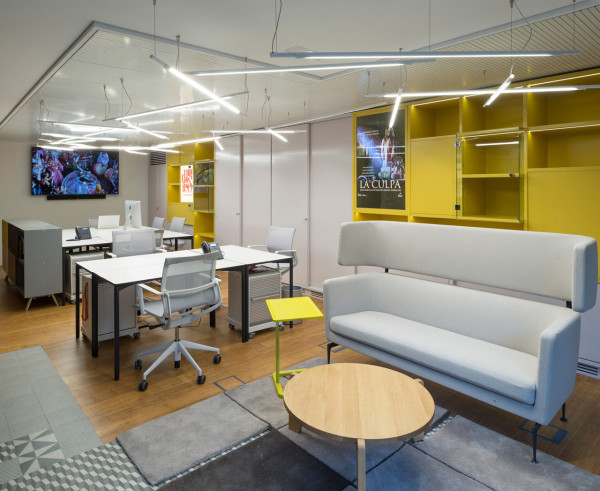 A central staircase wrapped in wood connects the main entrance on the upper floor and the basement offices.
Photos by Miguel de Guzmán.