Dutch architect Hans van Heeswijk designed his own home, a waterfront abode called Rieteiland House on the recently developed island of IJburg near Amsterdam. I'm always insanely jealous of architects because they always live in the nicest homes. No fair.
This large, light-filled home was a labor of love for van Heeswijk, who challenged himself to push the limits of his abilities and the materials and methods used. The home is clad in perforated aluminium panels and the rear is entirely glazed, so that residents can watch the sun set. Once again, no fair.
Part of the second floor is completely open so that the architect could have a screened roof terrace.
There is a central spine inside the building wrapped in wenge that contains storage, bathrooms, a laundry chute, and cables (for a laundry dumbwaiter – cool!).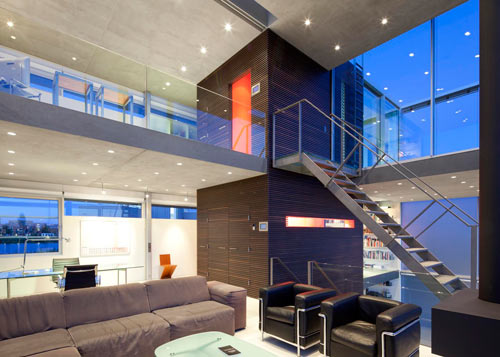 The house has been nominated for the Amsterdam Architecture Prize 2012.
Photos by Imre Csany/Csany Studio.

Design From Around The Web