The Riverside Museum in Glasgow by Zaha Hadid Architects just opened its doors in June of this year and already over half a million visitors have walked through the doors. Its design represents the relationship between the city and its main body of water – the Clyde.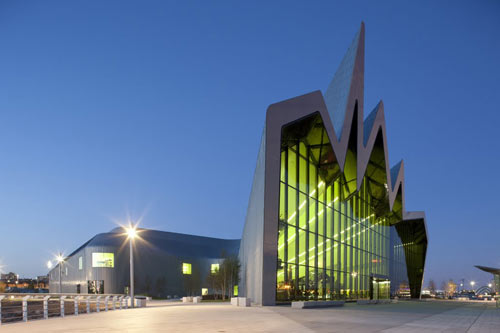 From the architects:
The building, open at opposite ends, has a tunnel-like configuration between the city and the Clyde. However, within this connection between the city and river, the building diverts to create a journey away from its external context into the world of the exhibits. Here, the internal path within the museum becomes a mediator between city and river, which can either be hermetic or porous depending on the exhibition layout. Thus, the museum positions itself symbolically and functionally as open and fluid, engaging its context and content to ensure it is profoundly interlinked with not only Glasgow's history, but also its future. Visitors build up a gradual sense of the external context as they move through the museum from exhibit to exhibit.

The design is a sectional extrusion, open at opposing ends along a diverted linear path. This cross-sectional outline could be seen as a cityscape and is a responsive gesture to encapsulate a waves on water. The outer waves or 'pleats' are enclosed to accommodate support services and the 'black box' exhibits. This leaves the main central space column-free and open, offering greatest flexibility to exhibit the museum's world-class collection.
Photos © McAteer Photograph/Alan McAteer