ROOM SERVICE Puts Students + Producers on Show for Stockholm Design Week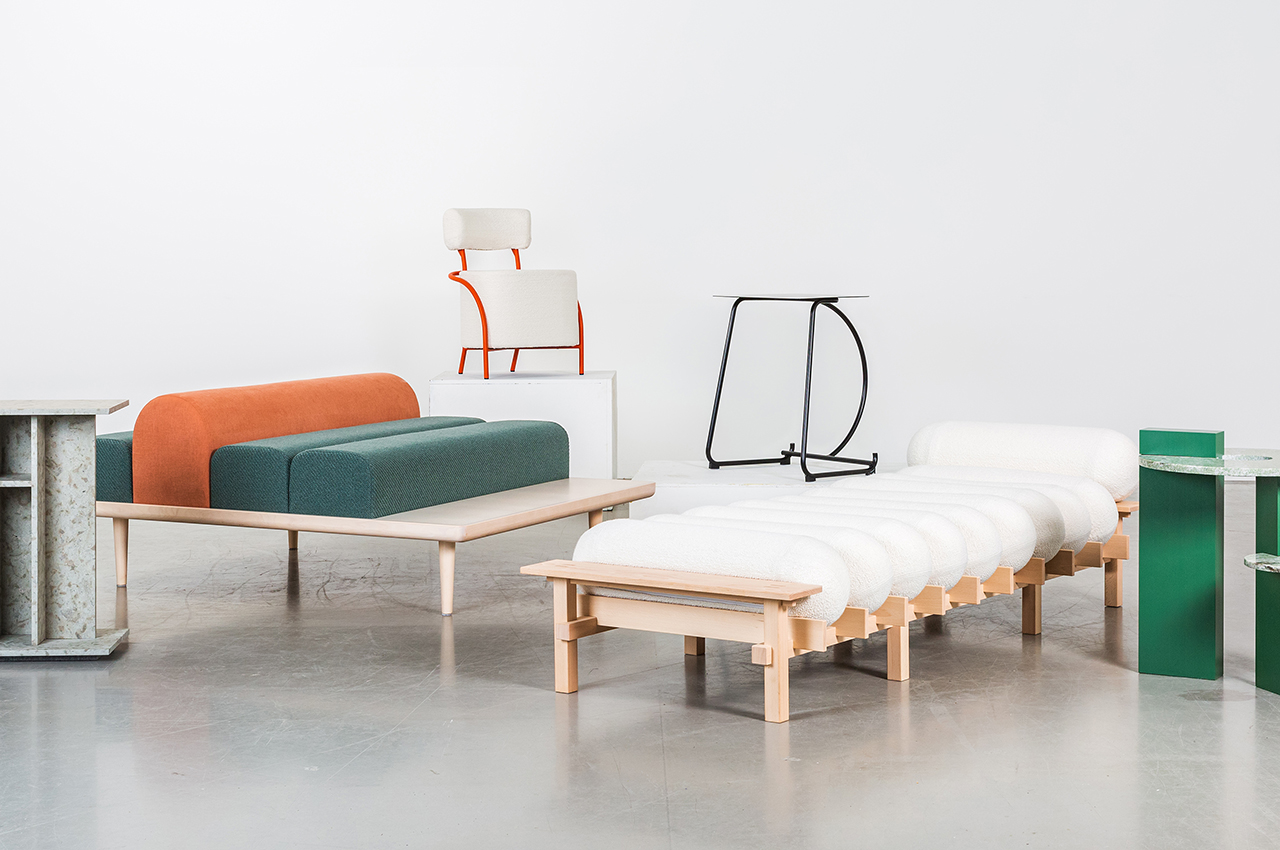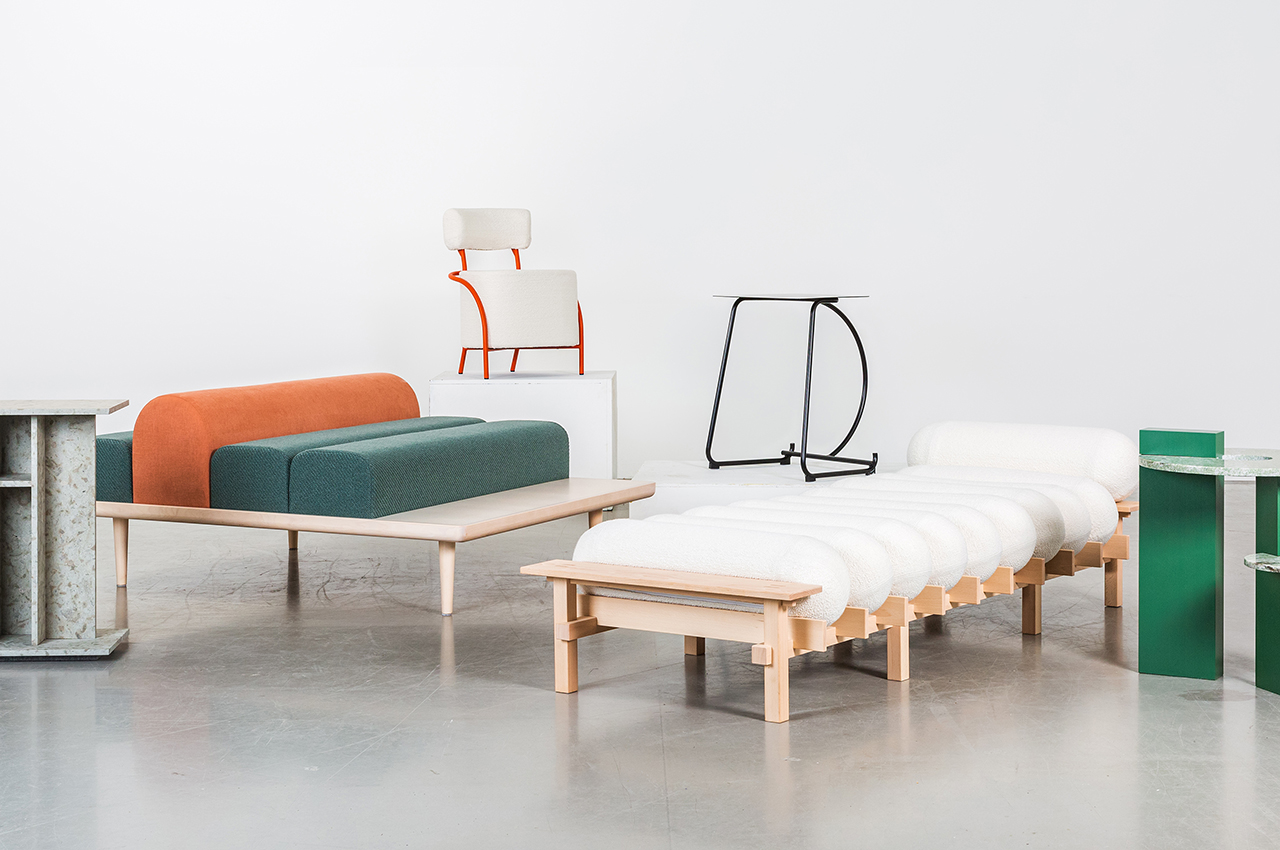 ROOM SERVICE Puts Students + Producers on Show for Stockholm Design Week
1/19 Photos
2/19 Photos
3/19 Photos
4/19 Photos
5/19 Photos
6/19 Photos
7/19 Photos
8/19 Photos
9/19 Photos
10/19 Photos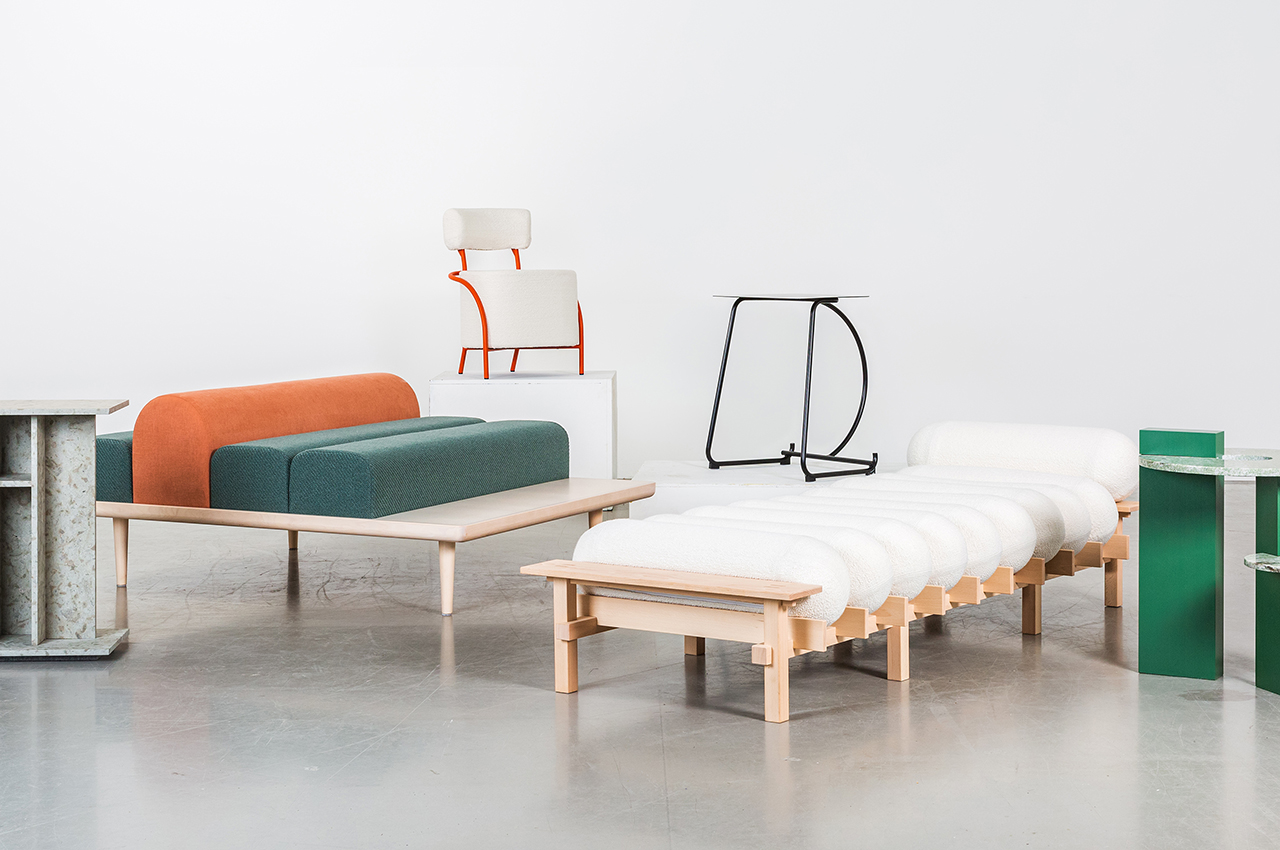 11/19 Photos
12/19 Photos
13/19 Photos
14/19 Photos
15/19 Photos
16/19 Photos
17/19 Photos
18/19 Photos
19/19 Photos
With the world feeling so disjointed, it's nice when things manage to carry on somewhat as usual – and in some cases improved. For Stockholm Design Week, Beckmans College of Design created the ROOM SERVICE exhibition. The collaboration pairs together 12 final year Product Design program students with six of Sweden's foremost furniture producers to bring a product design to fruition. The majority of furniture pieces found themselves geared towards the current work from home situation so many of us face currently, specifically with a focus on ergonomics. You can see the exhibition ROOM SERVICE at Superellipsen, Sergels torg, February 9-13, 2021.
The Handle Chair, designed by Alice Lannfelt and Nataliya Khanenko in collaboration with Johanson Design, was made for use as an extra seat. The combination armchair and pouf is lightweight and very comfortable, thanks to powder-coated steel and a wool blend textile. Use Handle in the office or public spaces, on its own or added to a group of existing seating.
"During the project we have found a common expression where the premise of the design has been the interaction between user and furniture. With that as a starting point, we have designed two handles on the sides of the seat, making it easy to lift the chair as well as underlining its purpose. The Handle Chair is made out of metal and textile, a timeless combination of materials that enables the possibility of changing the expression of the piece by altering either the color, texture or both."
The Åsa lounge was designed by Alina Piatanova and Arpie Amirians in conjunction with Storängen Design, using white lacquered birch, wool, cotton and upholstery. An ongoing search for the ideal balance between hard and soft materials led to the creation of a bench with no front or back. Welcoming from every angle, Åsa is playful, versatile and sure to stand out.
"The idea to balance the thin and fragile with the large and robust inspired us to design a piece of furniture that challenges the notion of classic lounge seating. Åsa is created in collaboration with Storängen Design, a small producer of furniture that is sustainably sourced, classically designed and manufactured with a combination of traditional skills and modern techniques."
Etage, designed by Elsa Frisén and Matilda Olsson Borg with the help of Källemo, is a sculptural side table inspired by the interactions between shape, material and volume. Using solid Ash and stained Ash wood, as well as Kolmård marble, the piece feels elevated and an honest weightiness. The various surface levels make a strong visual impact in any space
"The side table is designed with Källemo, a family owned company, based in Småland, producing furniture of high quality both with regards to design and craftsmanship. Our project has been guided and inspired by their heritage, values and expertise."
Eos is a bedside table designed by Johanna Fosselius and Max Stjerna, and assisted by DUX. Functional and sculptural, its abstract shape consists of planes and surfaces with hidden storage cubbies. And with no designated front or back, Eos can be used in other living spaces as well. Natural materials, such as wax-oiled Oak, Lindanäs limestone and black stained Ash add a familiar, comfortable feeling to this piece that features lovely proportions.
"DUX's knowledge spans almost a century of gathered know-how regarding human living environments with emphasis on the bedroom. Their design heritage and focus on quality has been a great asset in the collaboration. Eos comes in two versions, Tall and Wide, adapted to fit different DUX beds."
A flexible laptop table meant for use in public spaces, Cael was designed by Anna Rothlin and Emma Falkehed with the help of Kinnarps. The designers wanted to communicate movement through graphic expression while minimizing materials and simplifying the production process. The powder-coated steel table is easy to move and adapted to low seating, an optimistic design for today's new offices.
"Cael was created in collaboration with Kinnarps, specialist manufacturers within the field of furniture for activity-based offices and schools. With an aim to make the best possible use of the company's manufacturing expertise in steel, we took our inspiration from the Kinnarps classic Jig chair."
Designed by Gustav Winsth and Teresa Lundmark, along with Gärsnäs, Dag is constructed from solid Beech, cold-cured foam and wool blend with comfort in mind. The casual seating is meant to be used in both private and social environments, its padding and wooden frame interacting in a beautiful embrace of opposites. Dag's open design can anchor a space without obstructing its flow.
"Gärsnäs experience in wooden craftsmanship provided us with an opportunity to create a detailed yet simple construction in solid beech. In line with Gärsnäs renovation service, the daybed is constructed by separable materials in an effort to minimize environmental impact and to assure sustainable aging."
To learn more about ROOM SERVICE, visit beckmans.se. View ROOM SERVICE at Superellipsen, Sergels torg, 9-13 February.
Photos by Isak De Jong.