Design legend Ross Lovegrove was the keynote speaker at this year's IDSwest conference in Vancouver and our correspondent Aaron De Simone of I HEART LUXE sat down with Ross to talk about what he's up to, balance, self-doubt, and the never-ending design to-do list.
Lovegrove's first solo show in Italy, Endless, recently opened at Cardi Black Box gallery in Milan, featuring fine art works deriving from Lovegrove's personal research brought forward with the Liquid Collection, which was included in the exhibition Endurance at Phillips De Pury in New York back in 2007. The Liquid collection's shiny, water-like pieces are made of metal stretched to its capacity.
Design Milk: What are you working on now?
Ross Lovegrove: Quite a lot. There's the boat, there are shoes, of course there is always lighting, because I design a lot of lighting. I'm starting to work on social housing in Asia, and maybe a motorbike, an electric one. I'm meeting somebody next week about a Swiss watch brand.
I'm working on an apartment in Beirut. I'm doing my fourth collection, bathroom collection for Vitra in Istanbul. I'm working with Gateway Japan on bringing a lot of my lighting from Japan to Copenhagen… I'm working on all new furniture with Kartell and Moroso, in Italy. I just opened my show a week or so ago in Milan, of all my art. And a house in Poland — I could talk to you forever… lots of stuff.
Wow. How do you manage your focus, you have so many projects on the go, and how do you prioritize those projects? Is it what you are feeling passionate about at the time?
It's a bit like being on a boat in the 16th century looking for a new land mass. You sort of sense something's there. And suddenly there's a fire on the boat, so everybody stops what they are doing and puts out the fire, otherwise there is no boat. How studios like mine run — in terms of prioritization — prioritization is based on timing, the importance of the client, the relationship with that client, and the ability to earn a living. Those projects get priority because I have to pay for my studio so those people get looked after first. And all of the, what I call extraneous stuff, only gets done if there is any spare time. That's why I don't design a lot of furniture. I can't earn a living – I can't do what I do, just designing furniture. I love furniture, I'd love to have more time to do it, but I'd probably have to take a year or two off just to do it.
What percentage of your projects are personal vs. commercial?
It's 50/50.
Is that balance important?
It's just the way it works really. But you know, having said that, I take what I do very personally, which means that in a project I look for something very innovative, conceptually, and that takes a lot of soul searching. You don't just pick up your pen, draw it, and make it. You go through layers.
There are lots of reasons why something gets made or doesn't get made related to technologies, timing, investments or markets, or some sort of shift. It's very deflating to go for a couple years on a project and it doesn't get made. My objective is to get things made, so as a designer working professionally in that 50% about 80% of the 50% gets made.
Does acceptance or commercial viability play any role in your design process?
Everybody wants to be accepted in some way, but I'm not just going to do things to be accepted. If a client hears that "Oh Lovegrove is great" maybe they will work with me… but it's a sad thing if you got to get recognized because of your commercial effectiveness. If you go back historically, a lot of the great designers weren't rich at all – they were rich in another way, they were rich culturally – the people they knew, the quality of their life; incredible. You know so, George Nelson and people like that were not wealthy people – Marcel Breuer built one of the most beautiful houses in the world in Switzerland, so modest but what a place to live, or like Le Corbusier Cabanon in the South of France, where he did most of his amazing work, it was the size of this sofa. So where is the wealth? The wealth is in one's experience or the value one places on the object you are designing, being made in the way you see it.
How important is social purpose to design? Yesterday, in your keynote you said, "if it's a question of money, you aren't thinking hard enough" but is it a matter of maybe finding a purpose and then those means will follow? Do you think that's part of your success?
I don't because I don't think about it. I'm sitting here, now, and who cares, I don't have a Jag outside… I'm just here. I don't even need a watch because you've got one, so in a way I don't need anything, and there is a part of me that is very much like that, and a lot of people come to me and say, "how did you get known", or "how did you get successful" – I mean I don't bloody know do I? And I've been on the planet a long time.
You build up a certain self belief I suppose, in what you do, and you look at the work of someone like Zaha Hadid or Rem Koolhaas and they are all so different, but they are so committed to what they do. Each one of them is right — and they're radically different languages or approaches to architecture. I like the biodiversity.
It's not easy to make form; when form goes wrong it's horrible, and its much easier to copy a Greco-Roman or Doric column and do it in a funky color, that's a no brainer, but to actually start from zero, and develop this… For example, the forms of the ceramics… When you fire it in the kiln, it changes shape, it slumps; even to design a form to predict what will happen when it moves so when it moves and then it settles it still has an amazing form; do you know what that takes? That's incredible, I mean, that's before you even deal with the way that the water enters the basin and doesn't splash you… there are at least ten or twenty things that I have to think about within the thing I'm having to think about; it's true no?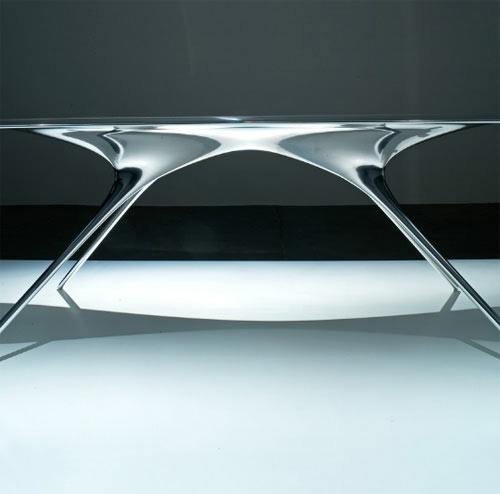 When something like a big table is delivered to the studio, sometimes I walk straight past it and go to my desk and switch on my emails, with my coat on. And the staff is all like looking at me like, "aren't you going to look at it? What do you think about it?" And I say, it's perfect. Because it's fucking perfect. I know it, I'm just waiting for the thing to arrive in front of my eyes and I don't need to go and crawl around it and analyze it, I can do that in a glance. Who would want to be with a pilot who couldn't be like that? You need a pilot who goes *bang* something coming, reflexes, instantaneous understanding of the objective of what you're looking for. It's not because I don't care, it's that I know if it's good or bad in an instant, which comes with a life's commitment to form.
So, you don't let self-doubt get to you? Do you worry about the unknowns?
I just have a go. I'm not going to bungee jump or do things like that. They say people with imaginations can't bungee jump, and I don't need to get a thrill like that to be alive. A girl asked me yesterday if I ever need to be high in order to create and I said absolutely not — that's the kiss of death. I do have self-doubt; everybody has self doubt.
During your keynote you talked about your design of the Japan Airlines first class seat and how you sought out the finest leather craftsman; so what I'm wondering is how important are those relationships in realizing your designs?
Well, you got to do the best you can! I associate flight with lightness, and I associate lightness with brightness, and I associate brightness with whiteness. The things that I produce look newly born, virginal, like they were just made, incredibly fresh and that's what I wanted to achieve with Japan Airlines.
The seats are made by Poltrona Frau, one of the greatest leather furniture companies in the world who also has a division that makes the seats for Ferrari. They were so happy that Japan Airlines put a booklet about me in the seat pocket of every seat so that every executive in Japan, every president of every corporation in Japan can sit there reading about me – you can't buy that could you?
But ultimately it's about doing a good job, and you know there is no point in me doing an airline seat again unless I can do better than that seat.
What's been your most memorable project, and why?
I haven't got a clever answer for you — they come and go.
Now that you've designed a solar car, do you cross the car off your list and move onto the next thing (you talked about an airport yesterday)?
It is a bit of crossing stuff off the list. You could start crossing it off your list but that list is endless — there are lots of things that are left to design. And I like designing from that point of view because design is education. If you repeat, for example, if it means that you design sofas all the time, either you are going to make absolutely genius sofas or they are going to be awful because you are repeating yourself all the time.
When I'm in places like this show [IDSwest 2011], I think that I should participate more, calm things for awhile and just do a beautiful bed where you can place your book on the side… nothing that is going to change the world, but something that I can show and make a contribution with.
Lovegrove portrait by Aaron De Simone.