There are a lot of iPad cases floating around there…probably many more than the quota of iPad's purchased thus far. From glossy print and plastic covers, to felt (everywhere!), there's something for everyone. Here at Design Milk, we thought we'd review the iPad-as-book trend that's been popping up. Most emulate the classic hardcover notebook, but some take a distinctly different approach, channeling vintage design or offering DIY projects that may not stand the test of time, but will likely stand out in a crowd. Here are eight great iPad cases with a book bent…
DODOCase, $59.95, Extinction
One of the most sturdy iPad cases emulating the classic Moleskin journal.
[via Techwoa]
The Case, Vol. 1, $54.99, Pad & Quill
DODOCase's cousin, Pad & Quill's version comes with a button clasp instead of an elastic strap, and weighs about 6 oz. more.
[via GadgetSin]
Convertible Book Jacket, $59.95, Incase
Mass appeal maker Incase upgrades the Moleskin look with greater functionality in its release.
[via GadgetSin]
DIY Spiral Notebook
Did you break the bank purchasing your iPad? Create a functional and simple case on a corner store dime.
[via GadgetSin]
The Old Book Case, David Hsu
A classic concept for storing the iPad, ripe with the DIY feel. The Old Book Case by David Hsu can be purchased at Etsy.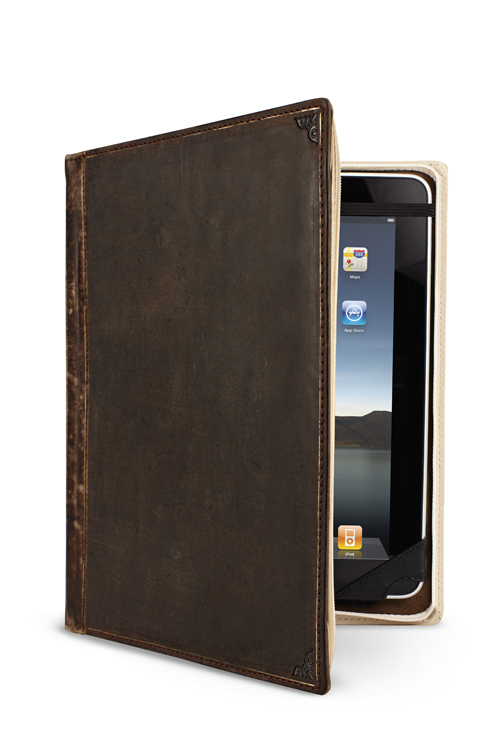 BookBook, $69.99, Twelve South
These iPad and MacBook cases look like weathered classics, fit with a three-sided zipper closure.
[via GadgetSin]
BOOK, $99, Live Long Books
Previously profiled on Design Milk, the BOOK iPad case is still distinct among the emerging iPad-as-book trend.
DIY Book Safe for the iPad
A DM favorite, if done well this DIY project trumps the competition.
And for those of you who can't afford the actual iPad but love the cases featured, take a gander at this tutorial over at MacWorld, and satiate your tech-geek need.
[via CrunchGear]