Just two years ago, we were jonesing for summer and couldn't get our head away from wanting to start jumping into every pool we saw. So we searched the internet and rounded up some stunning pools we were hoping to lounge beside. Skip to present time and we're getting that itch again as the temperature is rising. We couldn't leave it alone so we jumped (ha!) back in and found another 10 we'd like to visit this summer.
The Garden Design Studio designed and built this custom infinity pool for a house in Austin, Texas, along with the furniture that floats at water level.
On the coast of São Paulo, Guaruja City, the AMB House was designed by Bernardes + Jacobsen Arquitetura with an elongated infinity pool that overlooks the forest. The living room opens up to the pool with floor-to-ceiling glass windows.
Rolling Stone Landscapes brought a resort feel to this modern home in NSW, Australia. The pools make up a majority of the outdoor space with built-in stepping stones, trees, and planters bisecting them.
Studio Marastoni designed this concrete house on Sardinia's Emerald Coast, complete with a shell-shaped pool and a teak wraparound deck.
Another Australian home, the Curva House, by LSA Architects and Interior Design, has a bright blue pool just off the main part of the house making it super enticing to just take a dive anytime of the day.
This bright blue, angular pool overlooks one of Sydney's northern beaches and sits on the edge of a steep cliff. Peter Glass & Associates designed the pool with a wall to provide privacy and protection from the wind and it's punctuated with squares to allow for views.
In Caldes de Malavella, Girona, Spain, Lagula Arquitectes designed La Vinya, residence whose top floor cantilevers over an open air space partially covering an L-shaped pool.
Australia's Out From The Blue (OFTB) designed this incredible pool with a transparent wall that follows the treads of the steps down into the pool. You can get a view of the other side of the pool from the interior of the house.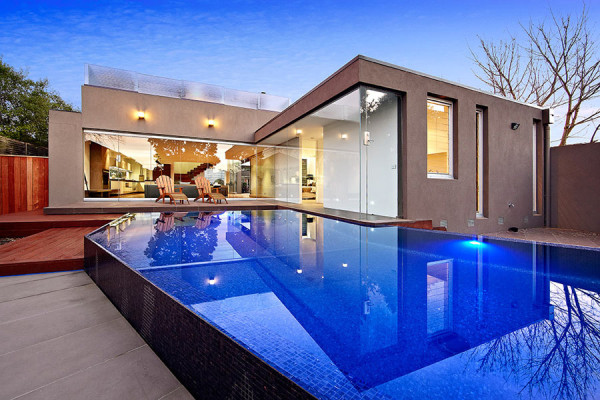 Part of a major renovation, Aloha Pools designed and built this raised, asymmetrical pool that extends out from the L-shaped, glass-walled residence.
The SilverWoodHouse, by Ernesto Pereira, is located in Mindelo, Vila do Conde, Portugal, and was designed to feel like a beach house, with its wooden, boardwalk-like decking that even crosses over the pool.

Design From Around The Web