Michael Wyatt Architect were tasked with designing a shelter and bathroom structure and instead of going with the typical green corrugated iron building seen in the New Zealand mountains, they created a modern pavilion that stands out. Surrounded by natural beauty, it was proposed that an "architecturally adventurous" structure would be best to complement the landscape.
They used pre-case concrete walls due to their durability, easy maintenance, and ability to absorb energy from the sun, which provides the lights and heat for the building.
The cranked and pitched roof mimics the sloping landscape and leads visitors to the start of the path. They kept the shelter fairly open as to discourage people from staying the night.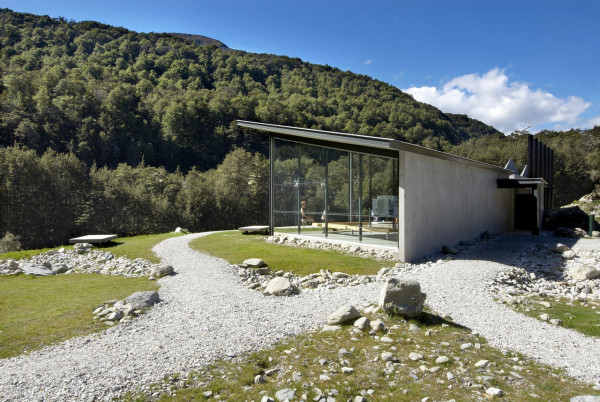 Skylights above the toilets provide light for each space. They also kept that entryway open to keep odors at bay.