Korean design studio found/Founded collaborated with electronics giant, Samsung, to bring forth a new conceptual line of "smart home furnishing" conceptualized to seamlessly connect users with smart home features such as wireless charging, a 360-degree webcam security, lighting, and streaming audio. This second partnership between the design firm and Samsung (previous collaborative effort here), the ensuing Creative Square collection is represented by four unobtrusive and aesthetic solutions, each epitomizing the convergence of furniture and wireless technologies into a seamless addition to the way people already live.

The Conic Light is a hanging pendant lamp and 360-degree security video camera in one. A Samsung 360 camera and a circular LED array hide underneath, providing light and a watchful eye overhead. The initial thought of this light+cam hanging over a dining table or living room seems ominously intrusive, but as a proposal above an entryway or infant's room the security benefits of the Conic Light becomes more apparent.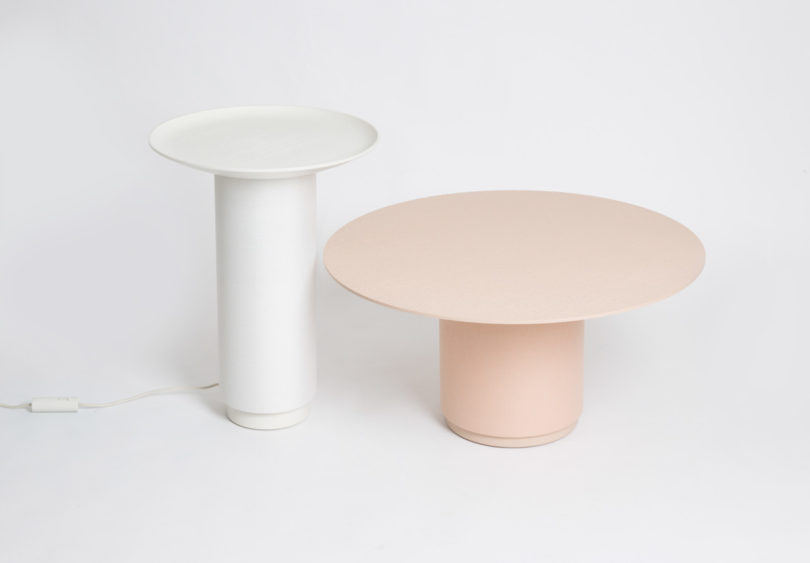 Surface Series Side Table integrates a wireless streaming speaker system within its minimalist geometry, an audio system disappearing act for anyone who believes speakers are preferably only heard, never seen. The built-in speaker module sits atop of a table surface finished with a faux wooden texture, with the audio controls provided using a small puck-shaped remote mirroring the shape of the tables ("a hemispherical decorative object" outfitted with basic audio controls).
Surface Series Charging Plate is a wireless charger that doubles up as a tray. The inductive wireless charging function is designed to keep Samsung's line of Galaxy smartphones or any other Qi charging compatible device topped off, while also serving as a decorative catch-all for other pocketable items.
The Foggy Mirror Diffuser and Mirror is the oddball of the quartet, a health-oriented accessory integrating a micro-humidifier (very popular in Asia) and essential oil diffuser with a mirror disc. It's not network enabled, but a rechargeable battery permits the unit to be positioned anywhere some humidity and the option to check yourself out is desired.