The following post is brought to you by Sancal. Our partners are hand-picked by the Design Milk team because they represent the best in design.
The job requirements for office furniture can read a bit like a wistful manager looking for that unicorn candidate: it needs to be comfortable, but not too; unique, but not off-putting; classic, but not boring. It can truly feel like a hunt for a mythical creature. Not only do you have the challenges of aesthetics, but also the changing way that we use modern offices. For example, many offices have more workplace "huddle areas" than conference rooms. Or just more casual seating throughout the office space. And, a larger mobile workforce can translate to smaller office spaces. It's a tall order. For their collaboration with Sancal, the illustrious family furniture firm NOTE Design Studio focused on creating functional seating that met the needs of this changing office space while also checking all the right boxes in the looks department. They did this, in many ways, by looking to the past to provide solutions for the future.
And you can't get much more historic than Spanish wine. Wine has been a part of Spanish life since the time of the Romans. So when, Sancal, based in the heart of Spanish wine country, begun their collaboration with NOTE, they asked the Stockholm firm to look closely at the wine barrels made locally in Yecla. The Swedish design team was inspired by the metal staves of the wine barrels, but they also wanted to reference Sancal's history as well as Spain's.
As a young design studio founded in 2008, NOTE design studio was captivated by the Sancal history. The furniture firm started in 1973 when, in a true startup style, founder Santiago Castaño began crafting classic 18th century French Louis XVI chairs in his rundown garage. The high quality pieces that Castaño crafted attracted buyers from, first throughout the country, and then the world. Sancal been making furniture ever since.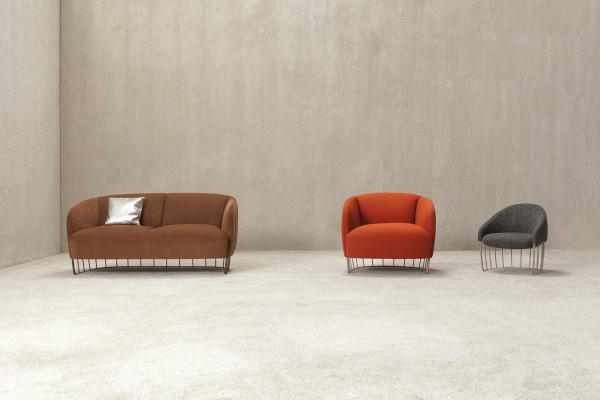 NOTE design studio wanted to allude to that history in their design and so the first Tonella referenced the petite size of those 18th century originals with an über compact footprint, making it perfect for our modern smaller offices. This year, the petite Tonella was joined by versions that are scaled up slightly for those more spacious workplaces (NOTE design studio likes to say that the petite Tonella is now joined by its parents!) Like the petite Tonella, these latest additions are made from molded polyurethane foam (comfort being a crucial aspect to an armchair design!) and can be upholstered in fabric or leather (the outer quilting is only available in fabric).
The Tonella upholstery is also a nod to that first chair, the slight curve of the back an echo of the original, while outer quilting insures that the wine barrel association is carried from the base throughout the piece. It's attention to those details that defines the ethos of NOTE design. "To note something, to get noticed: we are named after what we try to achieve. We like to pay attention to our surrounding, and try to create things that made others do the same." By paying attention to the smallest design cues — staves on a barrel and the curves of an 18th century original chair — NOTE design studio and Sancal have managed to update the classic armchair in a way that gives a nod to history while looking to the future.
Next week, Sancal heads to Orgatec, the workplace trade show in Cologne, also the place to see how furniture designers are responding to these new ways of working. It's also your chance to sit in a chair or on the newly released Tonella sofa (maybe with laptop on lap) to test for yourself if increased comfort just might equal increased productivity.

Design From Around The Web