This month marked the unveiling of Herman Miller's new line of office furniture, christened SAYL. The esteemed manufacturer celebrated with events in Chicago, New York and LA. On October 12, Design Milk was lucky enough to sit down with SAYL designer Yves Béhar for a special interview.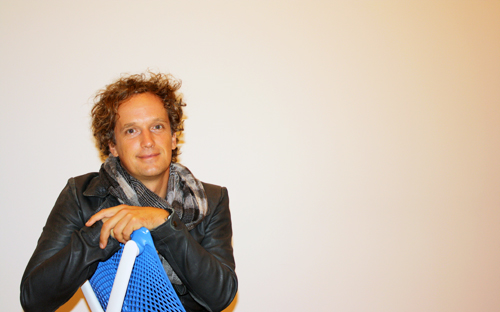 Nurturing a growing family can be a bitter business. Without thoughtful collaboration, a dose of sacrifice, and a good deal of respect for one's surroundings, its guardian may find himself big-boxed in some thankless superstore, companion to a nation's worth of disposable commodities.
"A lot of people will come to you and say, 'Hey, this is our low-cost line. We have very little money to invest in the development and we have very little time.' Well, that's going to be a crappy low-cost line.
"On the other hand, if you invest the right amount of time, and you invest in very efficient tools, very efficient engineering principles, then you may arrive at the end simply [with] a product that does both. [One] that is both innovative, that has integrity [from a] material and engineering standpoint, and that has a lower carbon footprint," states paramount Swiss designer Yves Béhar, the mastermind behind Herman Miller's new affordable family of SAYL office chairs.
Click below to listen or download our exclusive podcast with Yves Béhar:
Design Milk Talks with Yves Béhar
Released this autumn to deserving attention from the design elite, as well as countless furniture hobbyists, SAYL may be the most affordable line of chairs created by a brand home to the names Charles and Ray Eames. Béhar's latest creation may itself be remembered as a pinnacle design, ushering Herman Miller into the era of low-cost, eco-friendly furnishings, without compromising the manufacturer's patrician status.
Inspired by Béhar's current home — San Francisco — the SAYL family manages to combine the latest "3D Intelligent" materials with the ancient geometry behind the towers and cables of suspension bridges. The light and breezy back is reminiscent of the Golden Gate, while its engineers test its strength to a lifetime of wear by even the most disrespectful sitter.
Furthermore, Béhar's passion for low-impact products, coupled with Herman Miller's heirloom status, inspired a design that is 93% recyclable. Béhar's family of office furniture may get a quicker turn around than it has been designed for, but its disposal won't be the environmental tragedy that plagues so much of the low-cost furniture industry.

Almost three years in the making, Béhar admits that the design was accelerated, but that the chairs are being introduced at the perfect time for them to build upon Herman Miller's rich tradition of office furniture. Like any proud guardian, Béhar's delight over SAYL's release shines through. The new father of two is celebrating many new introductions of his own into the world. "[While] it takes a lot longer for a baby to make its first steps… the chair is ready for its first step today," he said.