South African designer Leanie van der Vyver is a recent grad of the Gerrit Rietveld Academie in Amsterdam. After working in fashion for seven years, she became very well aware of the manipulation of images in fashion that "suffer for a perfect result," and how we unfortunately compare ourselves to these images. Her frustrations with this and her own feelings of inadequacy against these fake images brought about the Scary Beautiful project.
Watch the video:
These crazy "shoes" formed part of her graduation project that was a result of her thesis (see thesis intro below). She discovered that generally people are not satisfied with what they look like and that "perfection according to the beauty and fashion standards has reached a climax. Humans are playing God by physically and metaphorically perfecting themselves." Scary Beautiful is a project that explores what lies beyond this perfection we all wish to reach by inflicting unexpected new beauty standards.
I hope that there is more to come in this project.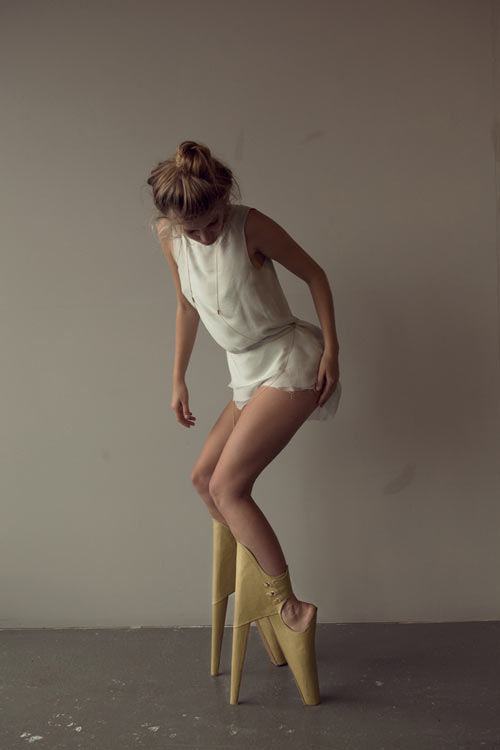 Introduction to thesis:
Just being human is not good enough anymore nor has it ever been. What is very clear is that people are not satisfied with what they were naturally born with. Neither the prehistoric cave dweller nor modern man has ever considered the human body aesthetically satisfactory. It is human nature to want to be more than what we are, and from the beginning of time we have gone to extreme measures to express on the outside how we desire to be perceived. On the surface, we are physically turning into ideal dream versions of ourselves. Being born a certain way is no longer a life sentence. We can choose exactly who we want to be. What are the possibilities of this new God-like control we have over our bodies?

Right now you can truly become more than just yourself, more than human. It's almost as if we have shifted from reality into fantasy. The sky is the limit when it comes to controlling our own image. Being online is considered a trusted version of yourself. We are behaving as if we have robotic extensions and we can now generate body parts and also have access to the technology to obtain super powers. We now have complete power over our own image and abilities. What is currently being done and where might these God-like powers potentially lead?
Photos by Lyall Coburn.