Developed in collaboration with Brooklyn's SITU Studio, Brooklyn SolarWorks designed a new, modern take on solar technology – the Solar Canopy – that replaces those massive roof panels of the past with a design-focused solution. The Solar Canopy makes solar power possible for urban dwellers by adopting sleek, thin panels that rest atop an aluminum frame 9-feet above the ground. This setup makes way for a shaded living space or carport while eliminating the panels from direct view. For this month's Deconstruction, the startup company takes us behind the scenes to learn more about the process of creating the Solar Canopy.
Rendering of a solar canopy with dining space on a New York City rooftop.
Designed in collaboration with Brooklyn-based SITU Studio, the Brooklyn Solar Canopy elevates solar systems above flat roofs in order to overcome physical obstructions, shade from adjacent properties and clear space requirements dictated by the local New York City fire code.
Versatility and installation simplicity are core design features of the Brooklyn Solar Canopy. The leg assembly can elevate solar up to 13 feet; while the truss can support unsupported spans of up to 26 feet in width and 15 feet in length. Typical rooftop installations can be completed in a single day using standard industry tools.
Canopy component inventory located at Brooklyn Solar Canopy Co.'s warehouse in Gowanus, Brooklyn.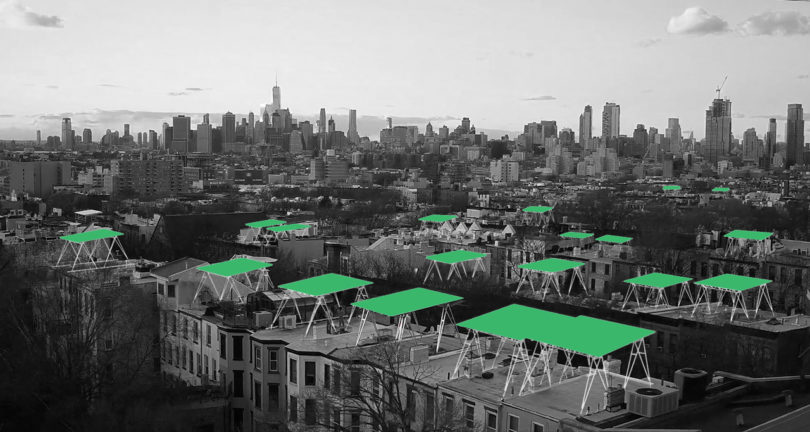 Solar's urban future: Brooklyn Solar Canopy Co. envisions a solar future for New York City and other dense metropolitan markets. Designed to comply with New York's strict fire code rules and create rooftop amenity space, canopies are an elegant solution to many of the barriers that limit solar adoption in cities.
Here, a fabricator at the company's Rhode Island offshoot welds the canopy's ALUMINUM frame. Approximately 1,100 lbs of aluminum is used for a typical two-truss canopy.
The Brooklyn Solar Canopy Co. team assembles a canopy prototype in its Gowanus workshop in Fall 2015.
Here, the team installs the first Brooklyn Solar Canopy atop a rooftop in South Slope, Brooklyn. Without a canopy, multiple roof obstructions and shade from the adjacent home would have made solar unviable for the home.
Semi-transparent bi-facial solar panels are fastened to rails atop a 9 ft. tall canopy, allowing for light to filter through the array. Up to 21 panels can be installed on a typical two-truss canopy, supplying between 7 and 8 KW of clean electricity to the host property. Depending on property needs, additional trusses can be added, supporting up to 9 panels each.
BSW installers integrates a truss and leg assembly atop a brownstone home in Brooklyn. BSW has streamlined the staging and installation process, and now typically completes projects within a single day.
Double powder coated canopy on the rooftop of Habana Outpost, a popular restaurant and neighborhood institution in Brooklyn's vibrant Fort Greene community.
A completed two-truss solar canopy sits atop a Brownstone rooftop in Park Slope, Brooklyn.