Now that more than half the states in the US have legalized marijuana in some form (whether it'd be for medical or recreational use), there is no shortage of stores and e-shops selling modern pot paraphernalia for the high-end cannaseur. (We even rounded up a few of our favorites here.) Serra is such a store. Unlike your local head shop filled psychedelic alien wares and Alice In Wonderland-themed merchandise, this Portland-based shop is a high-end cannabis dispensary that prides itself on providing beautiful, minimalistic pipes and accessories.
Below, I got the chance to chat with Serra's Brand Development Director Cambria Benson Noecker about "smokable art" and some of the challenges with opening a luxury store for the cannabis market.
Why did you pick this city/neighborhood/storefront?
For Serra's flagship location we restored an 1889 storefront in Portland's Historic Old Town District. The striking space and proximity to Portland's cultural center were two of the main draws. As one of the many native Portlander's on our team, we were thrilled to be able to contribute to a resurgent district with Historical significance.
Where did you get the name for the store?
Serra, is Italian for greenhouse. We intentionally strayed from the literal use of green in both our naming and branding and worked with the creative minds at OMFG CO in creating both the name and brand.
Has it changed much since it opened? How?
We opened our doors in July of 2016 and are lucky to have worked closely with our environmental designers, interior designer and our in-house compliance officer to anticipate legal requirements and were able to incorporate most obstacles organically into our retail design. That being said, we are continually working on upgrading and refreshing our space. Next up is a custom built hand-rolled joint station that will be an amazing addition to our flagship store.
What's one of the challenges you have with the business?
The legal state of marijuana throughout our design, build and launch has definitely been the biggest obstacle we've been faced with. When starting our design-process having an open, light-filled, welcoming space was a huge priority for us but at that stage we had to have our storefront obscured from public view. We gambled on the hope that this law was changing and incorporated a green house glass and steel wall with privacy film into our design so we could still get the desired feel. In October when the laws changed we joyfully pulled down the film!
What's your favorite item in the store right now?
Our Serra-exclusive Summerland bong. Summerland Ceramics, a line of gorgeous white ceramic smokeable art pieces that were one the first product lines we approached when selecting our assortment. We were lucky to be the first brick-and-mortar to carry the artist's pieces and worked with him to develop a special edition piece that incorporated our signature shade of Yves Klein Blue.
What is this season's theme?
Smoking as a lifestyle. From the flower we selected, to our edibles to pipes, everything was carefully curated to empower smoking to be incorporated into normalcy.
Are you carrying any new products and/or undiscovered gems you're particularly excited about?
We just launched our first edible line with Woodblock Chocolate, Portland's first bean-to-bar chocolate manufactory, and have created a seed-to-weed to bean-to-bar infused dark chocolate and milk chocolate bars.
What's been a consistent best seller?
Flower is our constant best seller and we designed our store to have that product be in the heart of it with our u-shape flower counter. Customers can explore the counter with our docents in their journey to find the perfect strain through our feelings-based approach. Our mantra and motto is "Feel all the Feelings" we assign our strains feelings (happiness, relaxation, creativity, energy, relief and focus) and our flower is coded around the counter with iconography to help them get matched with flower that will help them achieve the feeling they are looking to achieve.
Does the store have its own line?
We have exclusive collaborations with a grower: Pruf Cultivar, a chocolatier: Woodblock Chocolate and many artists with cannabis accessories, such as our exclusive Serra x Summerland bong. Right now under our own product line we have apparel and rolling papers, but we are actively looking to expand our offerings.
Any special events/exhibits/pop ups/collaborations coming up?
We are honored to be participating in Portland Design week and are doing a special two-day open house with a special art-installation. Details are under wraps for now, so stay tuned! We also have an under-wraps collaboration on the edible/drinkable side of the business slated for release on 4/20.
Do you have anything from the store in your own home?
Our home has become a shrine to the gorgeous "smokable art" we carry in our store. I always joke that most items on display on our shelves can either be smoked or store weed. One of my current favorites in the Cannador we carry, think a gorgeous cigar-box for weed. My other favorite is my weed cart, I've taken my vintage bar cart and turned it into a treasure-trove of smoking goodies I like to bring out when we have guests.
What's next for you and your store?
We are expanding into e-commerce! We have an amazing selection of cannabis-lifestyle items, from pipes to bongs, to handmade joint-rolling machines and joint jewelry, we are beyond excited to start offering the items for sale on-line to our out-of-state shoppers.
What's one lesson you've learned since opening your store?
Always be flexible but confident in your choices. We had a lot of obstacles due to the changing legal landscape in Oregon and flexibility was essential in bringing the project to fruition. The other thing I really learned was to have confidence in your voice and design decisions, from the beginning we were told again and again that our store was too-fancy and not right for the cannabis market. We stayed confident in our belief that this was the direction the market needed to evolve to and couldn't be happier with the path we are set out on.
If you could give one piece of advice to someone who wants to follow a similar path to yours, what would it be?
Right now the cannabis world is one of the most exciting and challenging industries to be a part of. Do whatever you can to be a part of the wild-west of the industry, but never cut-corners in achieving your goal. The hard work pays of personally and for the collective industry.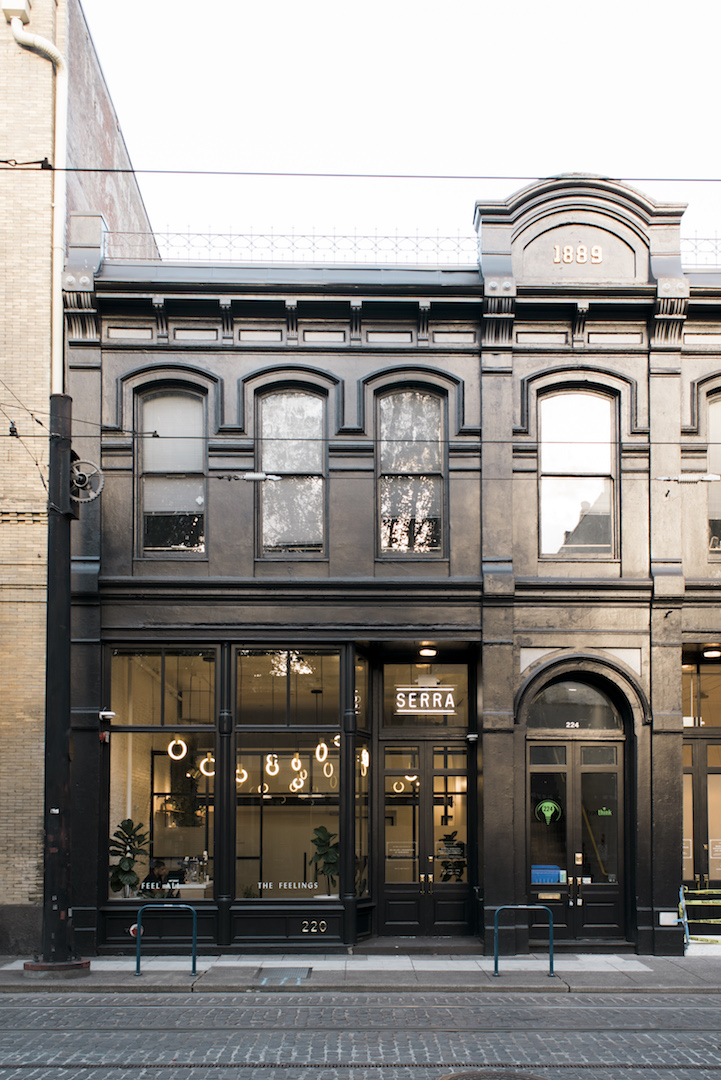 To visit Serra, stop by 220 SW 1st Avenue, Portland, OR 97204.
Photos by Kenton Waltz.