A computer numerical control router – CNC for short – is used in the subtractive process to cut out precise 3-dimensional shapes, most notably for furniture and product prototyping. They're expensive and serious industrial tools built around a bridgelike overhead structure called a gantry, designed to support, steady, and guide the router. "Portable" isn't usually an adjective you'd use to describe a CNC system, nor "affordable". Shaper, a San Francisco-based robotics company wants to change all that with a compact and camera-assisted augmented reality enhanced CNC router called the Shaper Origin.
The Shaper Origin breaks free from the usual physical restraints required of a dedicated CNC system using Wi-Fi connectivity between the tool and the computer to upload design files directly to the dual grip router. The system also relies upon a built-in camera and a special domino-style graphic tape for guidance – ShaperTape – a visual positioning pattern the system references to orient position and path in real time. This allows for precise hand-controlled cutting without the need of a gantry, in essence turning a giant machining center into a navigable tool about the size of a normal wood router.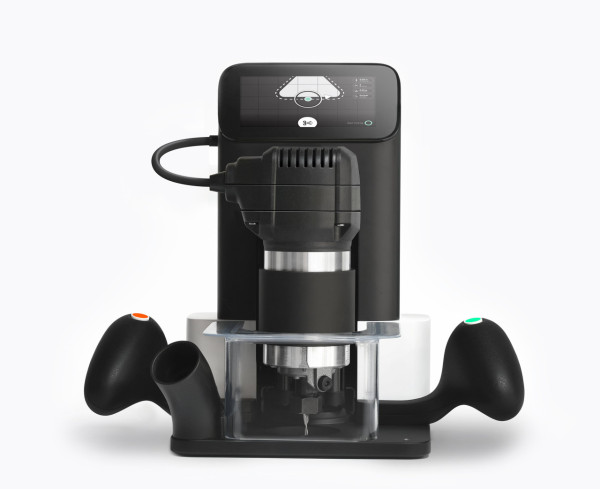 Designed to cut wood, plastic, carbon fiber, vinyl, and other soft materials, the Origin's hi-tech ace card is a touchscreen capable of displaying an augmented reality view of the router as it cuts in real-time through material within 1/100th of an inch of an intended path.
Cutting with the Origin could be seen as comparable to autonomous driving: hands are on the wheel/handles, but a computer is compensating for any human mistakes. With auto-correction, depth detection, and accurate repositioning engineered into the system, the machine simplifies the learning curve for anyone looking to prototype furniture and other dimensional objects. Easier to use, dependably exact, and significantly more affordable, we expect this device to be the talk of the industrial design and woodworking crowd.
The Shaper Origin is available for currently available for pre-sale for $1,500, with an eventual retail price tag of $2,099.