Now that the walls are up, it's time to pick everything I never knew I needed but came to find out I had to have. Luckily, having worked with my Control4 Smart Home Pro, I was ready for the next step – selecting the essentials. Honestly, at first, I thought I went overboard, but it was important for us to invest in the future of our home. I worked with the Control4 Smart Home Pro and had everything pre-wired, so I could have taken my time and done one system at a time. But, I decided to get all of my equipment at one time, prior to moving in.
It was a bit overwhelming in the beginning, but my Control4 Smart Home Pro told me we should break it down by functionality. We thought of it in five ways:
(1) infrastructure
(2) automation
(3) audio
(4) video
(5) security
While there are five separate categories, a lot of them overlap in functionality and the system became a homogenous unit that works together.
Infrastructure
Everything starts with the infrastructure, much like the foundation of a house. We needed to have the most robust internet speeds possible with multiple ways to access it. Plus, Jaime works from home, so she needs reliable and fast access.
Our house is one story with a lot of sheer walls, so we used multiple wireless access points to get the coverage we needed. In order to help route the traffic, we purchased a Pakedge Wireless Controller and a Pakedge 8-Port poe Managed Switch to power the access points. The goal is to have full 1 gbps coverage on the entire perimeter of the house. It may seem like overkill, but I'm hoping to future-proof for (at least) the next couple years.
We also have a lot – and I mean a lot – of cat6 run in every room. We have two cat6 lines behind every tv, in the bedrooms, offices, even outside by the pool equipment so we can tie the pool controller into the Control4 system. To manage all of the traffic, we're using Pakedge Managed Switches and a Pakedge Router. We're also using a power conditioner that has individually controlled outlets and autonomous self-healing, which means it can reboot different components so that we never have to do it ourselves. We can even schedule the reboots to happen in the middle of the night so that the network is never down.
Automation
To tie everything together, we decided to go with the Control4 EA-5 Entertainment & Automation Controller. My Control4 Smart Home Pro advised me that this controller was robust enough to handle all of our automation needs. It's compatible with my smart locks, cameras, lighting, thermostats, window shades, garage door, and much more.
We have some Control4 smart light switches and other Control4 lighting controllers that give us the ability to set scenes. Our Control4 Smart Home Pro has been great about suggesting different scenes and functionality, and we can't wait to see how we'll use it and edit, adjust, and add to it in the future all on our own with When >> Then Automation.
We also decided to go with two Control4 10" In-Wall Touchscreens, mounting one at the entry and the other in our bedroom. These give us the ability to quickly arm/disarm the alarm and to wake or put our home to sleep. We also got the Control4 Neeo remote for inside and a Control4 SR-260 for outside.
Audio
Our audio is divided into two sections: "great room" and "everywhere else." In the great room, which is where our family will primarily watch tv and movies, we installed 7 Triad speakers in the ceiling – 3 LCRs, 2 mids, and 2 surround speakers. We also have a 12" subwoofer to round out the bottom end. I got a 9.2 Dolby Atmos AVR to power the great room – it has the power needed to push the speakers so that I get the most out of my home theater experience.
For the rest of our home, we installed Triad speakers, so we can use the Control4 EA-5 to stream our favorite music to every speaker in the house or any speaker(s) that we choose. We also got a pair of Triad Amplifiers and a Triad 24-Zone Audio Matrix Switch to distribute the sound to every room – including outside. [Side note from Jaime: Jordan went a little crazy with the speakers, but I can't lie – I don't hate it. ☺ ]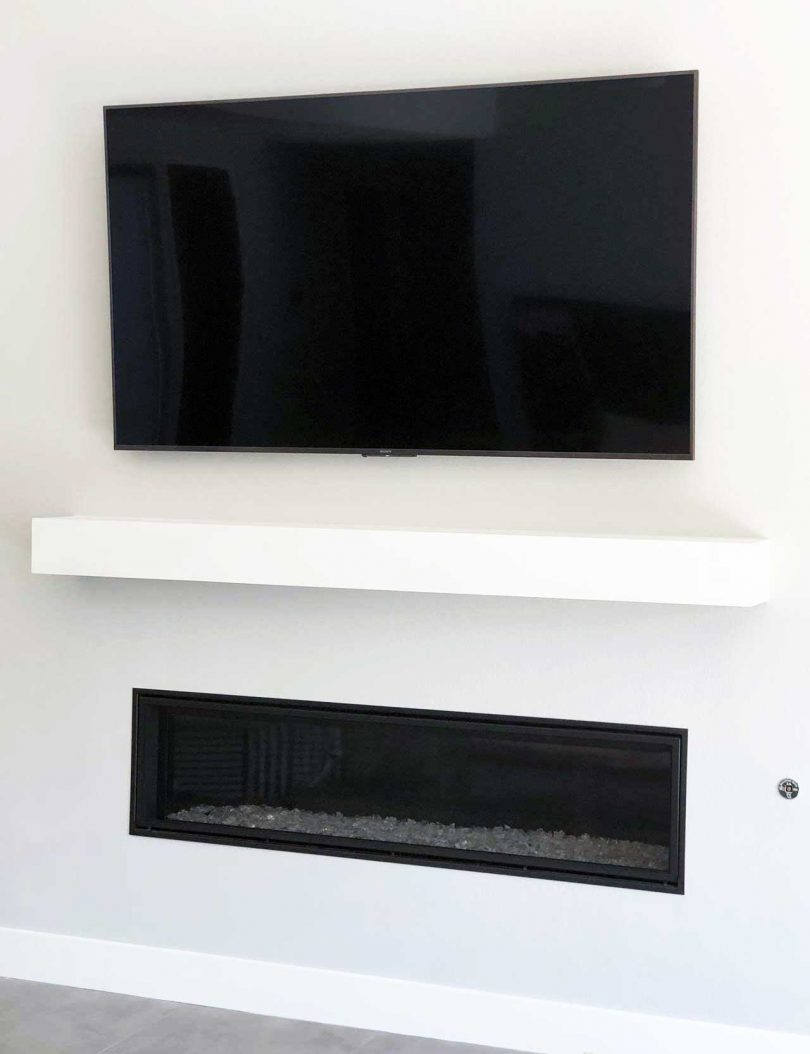 Video
For video, we got a Control4 6×6 HD Video Matrix. With the video matrix, we can stream up to six different 4k video sources to any one of 6 displays. With this equipment I can make the sound for the tv play from the in-ceiling speakers instead of the stock tv speaker. We also have an EA-1 controller behind each of our tv's to help communicate with the EA-5 and the video matrix. The EA-1 controllers bolster the Zigbee mesh network to make communications more robust.
Security
The security system incorporates a traditional alarm system and 10 Pakedge turret cameras positioned around the house, which feeds into a Lilin NVR to record and upload any suspicious activity.
My Control4 Smart Home Pro explained that you can program the cameras to have an invisible perimeter. Meaning that if anything trips a camera it can communicate with the rest of the system to turn on a light, lock a door, or arm your alarm. Pretty sweet. We also got Control4 DS2 Mini door station so we can see who is at the door and communicate with – and even unlock the door – for them via the in-wall screens and our mobile phones.
It was a lot of fun designing our system, from the conceptual stage and pre-wire to final decisions and purchasing. We're really looking forward to finally moving in and experiencing what it's like to live with all of the functionality of the Control4 smart home.
Control4 provided us with some of the above-mentioned products for review. All opinions are our own.