hotel koé isn't your traditional Japanese hotel. That's because the concept for the property designed by Suppose Design Office was to launch a flagship shop for the apparel brand koé. The design team proposed that instead of just offering a shop that's opened during regular retail hours, why not build a hotel and community hub that will bring together locals and tourists alike to experience the koé brand 24/7?
Located in the trendy district of Shibuya known for its music and fashion culture, hotel koé offers visitors a place to grab a good meal and listen to some tunes right when you enter. The first floor consists of a restaurant and pop-up space to feature live music and dancing on the weekends. The racks of koé apparel are simply lifted to create this entertainment space. The grand wooden staircase doubles as seating for cafe and event guests.
On the second floor, you can shop original apparel and accessories by koé, who sometimes also offer unique artist collaborations. From 9pm-11pm, the shop is unstaffed but guests can pay by card at the self-checkout kiosk.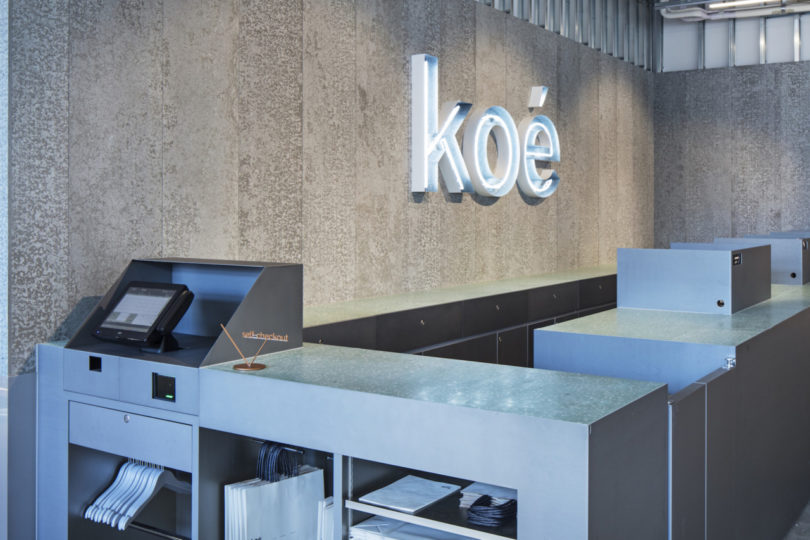 Finally, the third floor offers quiet and relaxation inside the teahouse-themed guest rooms. The rooms are marked by digital signs to distinguish the four types of rooms: S, M, L, and XL. The floor also offers a private lounge for guests where light plays an optical illusion effect in extending the perceived depth of the room.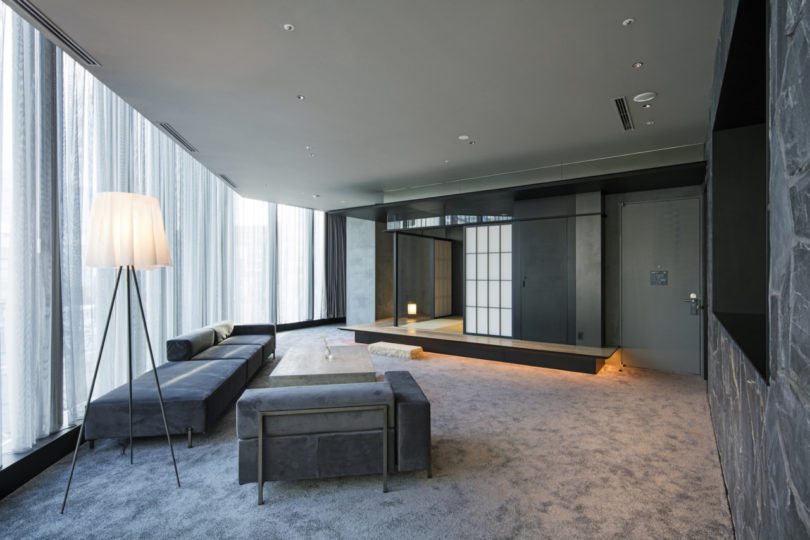 Dark, moody hues of charcoal are reminiscent of the traditional shou-sugi ban, the Japanese process for the charring of wood to transform the natural material. Japanese elements like paper lanterns, paper screen doors, raised or recessed spaces give the hotel a sense of authenticity while modern fixtures and furniture lends a contemporary look.
What: hotel koé
Where: 3-7 Udagawacho, Shibuya, Tokyo 150-0042, Japan
How much? Rooms start at approximately $273 per night.
Highlights: This modern hotel offers food, drinks and a lively atmosphere on the first floor; an apparel shop on the second floor for the brand koé, and accommodations on the third floor.
Design draw: The rooms are inspired by Japanese culture, and so the ambience of the rooms feel quiet and serene, as if you were staying inside a traditional teahouse.
Book it: Visit hotel koé
Photos by Kenta Hasegawa.