Based in Shanghai, ziinlife has become one of the fasted growing brands in China since its 2013 incarnation. Their goal has been simple – create quality modern furniture at reasonable prices – and so far they've managed to do just that. They've just released their latest collection, dubbed The Playful Angles, that features six new designs that take on new characteristics when viewed from other angles. Take a look.
Turtleneck Sofa comes with adjustable collar that flips up to hold one of the extra pillows it comes with when you want extra neck support or flips down for an extra added design detail. The pillow can then be used for back support or simply as a throw pillow. The sofa comes as a 1-seater, 2-seater, or 3-seater and in three colors – peach, mustard, and charcoal.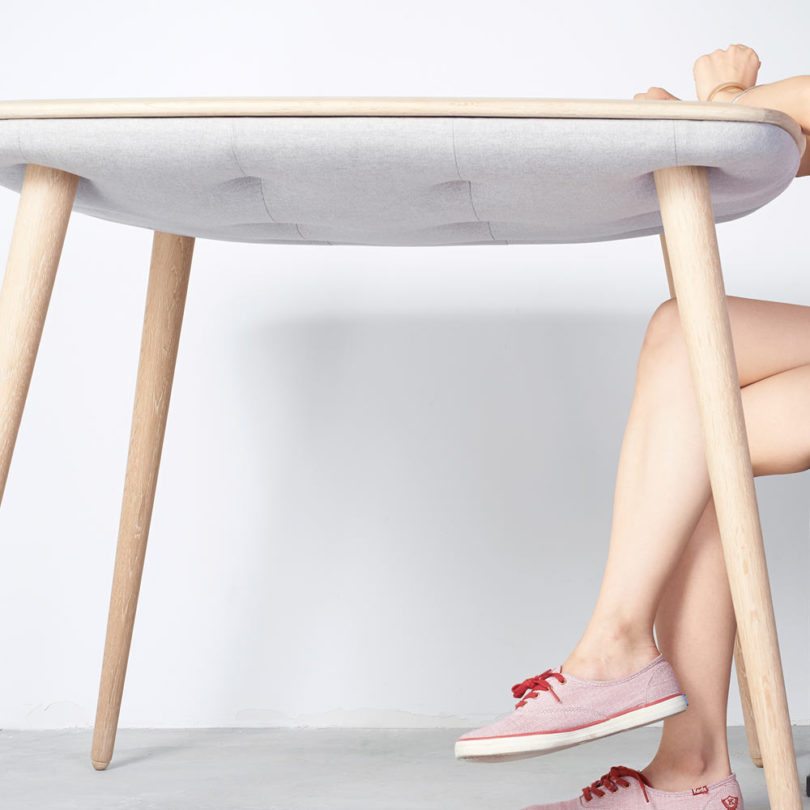 How many times have you gone to reach under the table to get your napkin on the floor or something else you dropped and then hit your head as you came up? What about when you were a small kid and used to play under the table and you'd bump your head by accident? Small World Table is more than just a modern dining table as it also focuses on your child's perspective. Now, when the look up, they'll see a padded and tufted cushion underneath the tabletop that will prevent all head bumps during playtime. Available in Small or Large.
The multifunctional 1/2 Coffee Table pulls apart to reveal that it's actually two tables in one. They're either together, where one table slides over the other with their slanted edges meeting, or separate for additional table space. The table includes two circular trays that can be used individually or simply leave them on the tabletop for flat surface space.
The Cloud Cabinet merges a cube and a barrel with storage for taller items, like umbrellas, at the bottom and books on the upper shelf. The design references a tree that could grow really tall and reach high above the cloud. The indentions on the top mimic the rings of a tree or orbits in the universe, showing how growth can be limitless, while providing a space for your smaller objects without them falling on the floor. Comes in Small or Large.
The Capricious Wall Shelf comprises a series of shelves that suddenly appear to be climbing up the wall with legs in various positions. Slightly quirky yet playful, the shelves provide additional storage to any room.
The Handy Box is a simple design to store you goods. With a slightly tiled handle, you'll find it makes it easier to lift and carry. The sides also have uneven edges and that's so when the box is pushed against the wall, your fingers still have room to slip down and grab the handle.