The firm of David Guerra Architecture and Interior Design took over this massive (350 square meters or 3,767 square feet) apartment in Belvedere, Belo Horizonte, Brazil, and turned it into a cozy, yet urban, home for this family with two children. The couple moved to this apartment in the city when their first child became school age and kept their country house for the weekends, so Guerra set out to bring a bit of the country coziness to these sleek city digs.
Walls were removed to create an open concept living plan between the living room and the former balcony. The balcony became a sitting area and a gourmet bar/kitchen for when they have friends over or for a quick breakfast with the family.
They brought in warm woods for the floors, and in some cases, up the walls, mixing well with the gray Mister Cryl Silestone that gives an industrial feel.
The furnishings are kept pretty neutral with shades of brown and gray throughout, interspersed with various metals and glass that create a cohesive vibe.
There are plenty of fun elements though, like the addition of the Moooi Raimond chandeliers above the long wood dining table.
Various woods were used, like mahogany field, pink mahogany, cedar, and cinnamon, creating an almost striped panel treatment on the walls.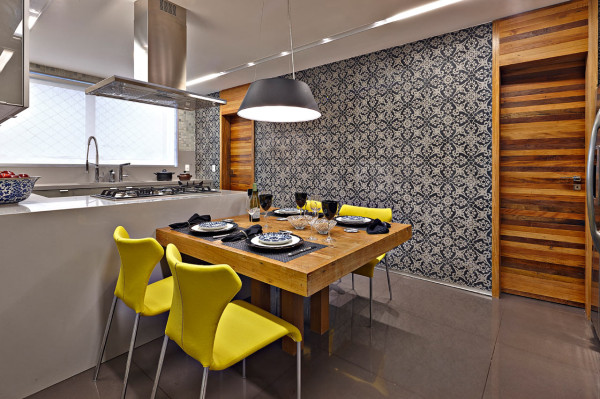 The kitchen features an array of gray and silver finishes, including graphite Silestone on the floors, silver Silestone on the countertops, and black and gray hydraulic tiles on the walls.
The architect also brought in a wooden table he designed, as well as some bright yellow Papilio chairs from B&B Italia.
In the master bedroom, they created an oversized headboard out of mahogany.
Photos by Jomar Bragança.

Design From Around The Web