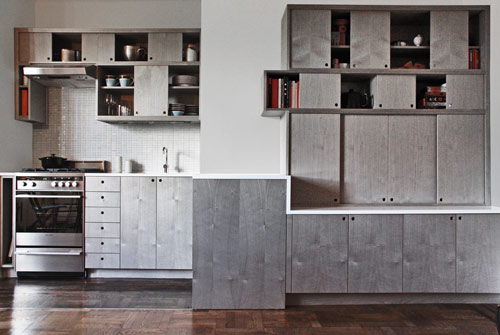 This renovation in Brooklyn Heights, by Stefanie Brechbuehler, LEED AP and Robert Highsmith of Workstead, includes a custom kitchen and living wall. Executed under a tight budget of $17,000, the project transformed an outdated kitchenette into a beautiful and functional piece of cabinetry. They worked closely with Bartenschlager Woodwork who did the fabrication.
As a graphic designer, the client's interest in grid systems provided the basis for the concept of sliding doors; while the system has many common dimensions, it is animated by its constant use. Minimal hardware was used; the kitchen exists in its most utilitarian form. The result is one furniture piece that uses the rhythm of the cabinets along the wall to introduce a play of light and dark, and expose the objects of the kitchen and living room.

Made of birch plywood with a gray birch veneer, the kitchen includes solid surface countertops, and all new appliances and fixtures. The piece gives visual clarity to the main living space of the apartment, and redefines the relationship of the kitchen to the living room.
Before: