A Smart Home Comes to Roost for Backyard Chickens Inside The COOP
A Smart Home Comes to Roost for Backyard Chickens Inside The COOP
1/7 Photos
2/7 Photos
3/7 Photos
4/7 Photos
5/7 Photos
6/7 Photos
7/7 Photos
Bould Design's portfolio of work includes some easily recognizable designs from the tech category, including the sleek Eero mesh wi-fi system, the petite and purple embellished Roku streaming media player, and perhaps one of the most popularly adopted smart home devices ever, the Nest Learning Thermostat. Few would guess the design studio's next project would be a smart home… not for people, but for housing our fine feathered friends.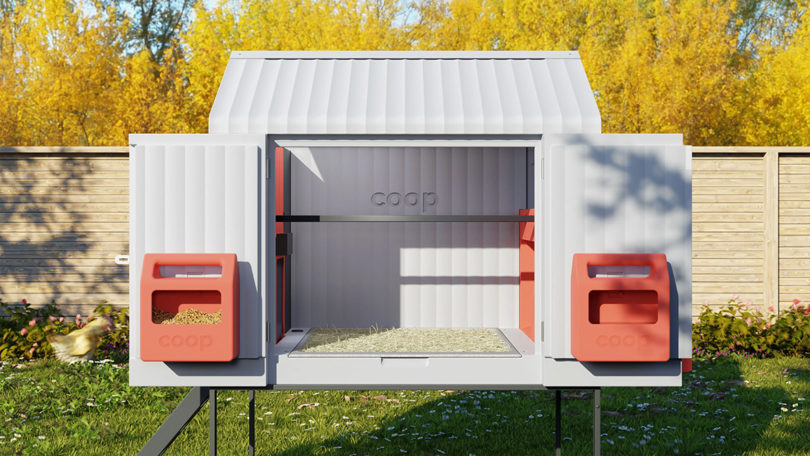 The Austin-based start-up's chicken dwelling The COOP is a backyard coop for suburban dwellers seeking a stylish and safe housing solution for pet chickens. Sharing many of the architectural hallmarks of a modern pre-fab structure intended for humans, including clerestory windows below its pitch roof design and a colorful front door, it presents itself as the ultimate ADU for chickens.
To ensure the occupants remain safe and sound, Bould Design and COOP made their modern coop with double-walled recyclable plastic, manufacturing using the same rotational molding technique that imparts YETI coolers with their storied durability and insulation.
Beyond its smart looking design the miniature home is equipped with an IoT camera which allows poulterers to check on their feathered flock both inside and out remotely by app. The Run & Roost cams are engineered with many of the same smart security cameras humans use to monitor their homes – 1080p resolution, event recording, night vision, and motion alerts – while also giving owners the option to peer in to check-in on their pets and their eggs at any hour.
And being a smart home, of course there's a compatible app that offers monitoring, notifications, and also the option to schedule the remote control front door to open and close over the span of the day.
We'd be quick to admit we are not well acquainted with the rates within the housing market for chickens, but the nearly $2,000 price tag attached to The COOP's 28 square feet is not insignificant. Mind you, the interior can accommodate up to six lodgers at once, includes integrated feeding and watering stations, and features two areas for hens to comfortably nest. In any case, the chickens who come to roost in The COOP should consider themselves particularly fortunate to call such elevated architecture home.